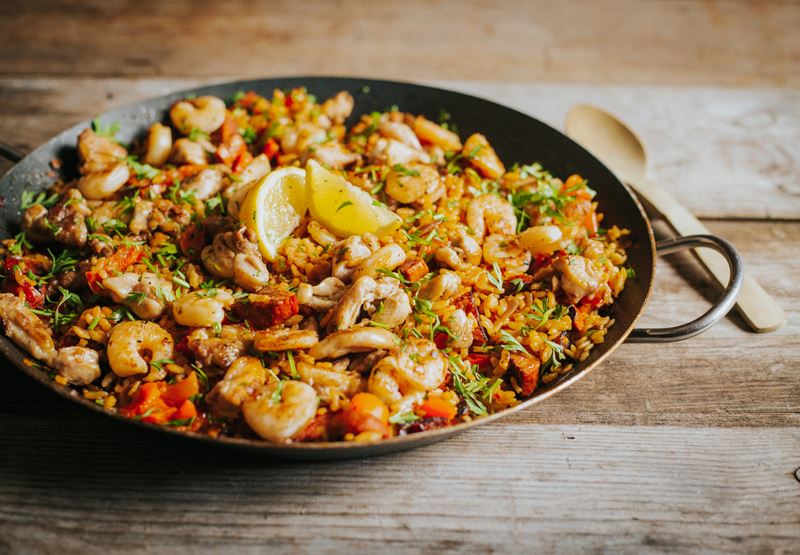 BBQ Chicken Paella Recipe
Fancy a break from the usual bangers and burgers? This flavour-packed paella is cooked on the barbecue (though the recipe translates easily to stove-top cooking) for a deliciously different 'al fresco' dining experience! Serves 4-6.
Posted by:

John Williams

Posted on:
Method
First, light your barbecue well before you want to start cooking, so that it has time to come up to heat. When the charcoal is almost ready, fill and boil a kettle and make up the chicken stock, adding the saffron if using, then cut the chicken thighs into bite-sized chunks. When the barbecue is ready, place a paella pan (or large, shallow frying pan with a heat-safe handle) on the grill and add a good splash of olive oil. Put the chicken pieces into the pan and cook, turning the meat so it browns nicely on all sides, then take a clean plate or dish and lift the cooked chicken on to it with a slotted spoon. Set aside. Next, put the sliced chorizo into the hot pan and fry for 2-3 minutes until crisp, then add the onions and fry for about 5 minutes until soft – you may need to sit the pan over a slightly cooler area of charcoal to avoid burning them. Stir in the prepared garlic, peppers and tomatoes and cook for another five minutes, stirring, until the tomatoes start to soften and break down, then add the smoked paprika. Put the cooked chicken pieces back into the pan, together with the rice, then pour in the stock and give everything a good stir. Make sure the pan is sitting over medium-hot charcoal, so that it will simmer gently (but not boil away madly), then leave it for 10 minutes without stirring.
When the 10 minutes are up, arrange the prawns on top of the rice, then cover the pan with a sheet of foil (if your barbecue has a lid, you can also put the lid on at this point) and leave to cook for another 10 minutes, or until the prawns have turned completely pink. Remove the pan from the heat, remove the foil and leave to stand for 2-3 minutes, then scatter over the chopped parsley and serve with the lemon wedges alongside.
Be inspired…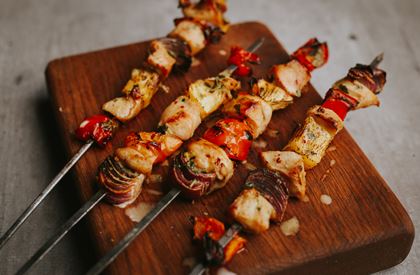 These coconut-marinated kebabs are a tasty, colourful way to add a little interest to your barbecue! They're easy to put together and won't take long to cook – just be sure to start preparing well in advance, so the marinade has time to work its magic. Serves 4.
Come and see us
Greendale Farm Shop
Sidmouth Road
Nr. Farringdon
Exeter
EX5 2JU
Opening hours
Mon-Sun 7am-11pm