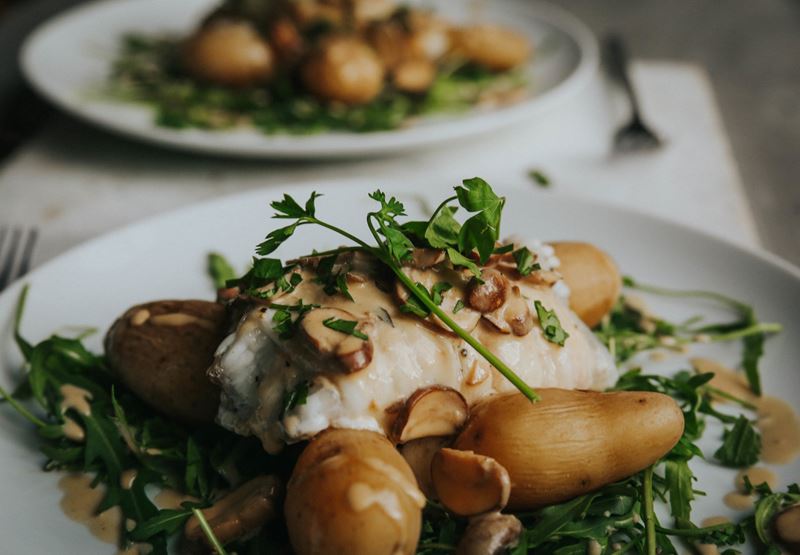 Rolled Megrim with Mushroom Sauce
Landed by our fishing boats in Newlyn, Cornwall, Megrim is a cheaper, more sustainable alternative to Dover or Lemon Sole, and tastes every bit as good. This simple recipe can be scaled up easily if needed. Serves 2.
Posted by:

John Williams

Posted on:
Method
Preheat the oven to 200°C (Gas Mark 6) and fill and boil your kettle. Put the potatoes into a large saucepan and cover with boiling water, then put them on the hob over a medium-high flame and cook for 10-15 minutes, until tender when pierced with the tip of a sharp knife. While the potatoes are cooking, roll up the Megrim fillets (working from the tail end) and place them in an oven-proof dish. Pour 50ml of the wine over the fish, dot on the butter, then season to your liking with salt and pepper. Cover the dish tightly with foil, then put it into the hot oven to bake for 8-10 minutes.
Next, get on with making the sauce. Put the olive oil into a large saucepan over a medium heat, let it get hot, and then add the mushroom slices. Cook them for about 4 minutes, stirring regularly, until nicely coloured all over. Pour in the rest of the wine, stir in the mustard and most of the parsley (reserve a little for garnishing), and lower the heat a little. Add the cream to the pan, stir everything to combine and let the sauce continue to heat gently (without boiling) until it begins to thicken.
By now, the potatoes and fish should be cooked. Drain the potatoes and divide them between two plates, together with the salad leaves, then take the fish out of the oven and place two fillets on each plate. Pour a little of the sauce over the fish (put the rest in a serving jug or bowl and take it to the table), then scatter over the remaining parsley and serve.
Come and see us
Greendale Farm Shop
Sidmouth Road
Nr. Farringdon
Exeter
EX5 2JU
Opening hours
Mon 8am-8pm | Tues-Sat 8am-10pm | Sun 9am-7pm