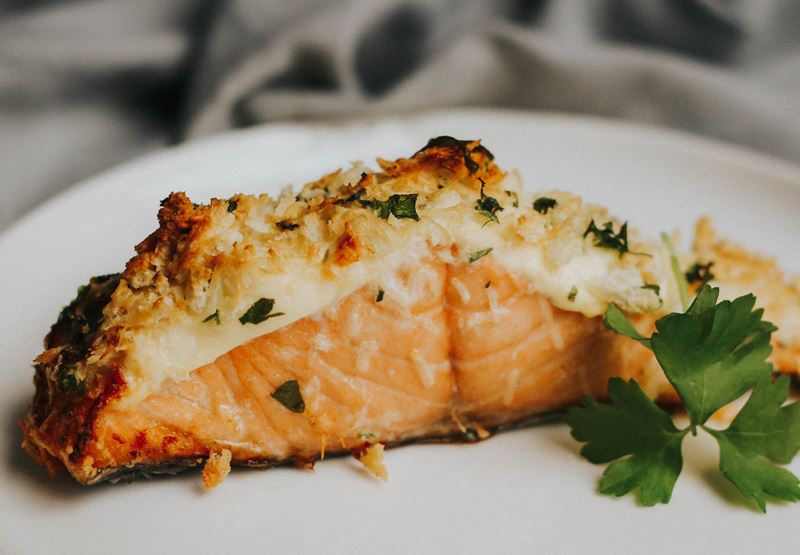 Baked Salmon Fillets with Lemon & Parmesan
Simple to make, quick to cook and delicious to eat, these baked salmon fillets are about as close as we get to 'fast food'! The recipe is pretty versatile - you can replace the parmesan with any other hard cheese you have to hand, and swap the parsley for dill, chives or other soft herbs. Serves 6.
Posted by:

John Williams

Posted on:
Method
Preheat the oven to 200°C (Gas Mark 6) and put the salmon fillets on a lightly oiled baking tray. Put the yoghurt into a mixing bowl and crush in the garlic, then add the lemon zest, a small pinch of salt and plenty of pepper. Mix well to combine, then spread the top of each fillet with the yoghurt mixture, sharing it evenly amongst them.
In a clean bowl, mix together the breadcrumbs, parmesan and almost all of the parsley, then season to taste with salt and pepper. Scatter this mixture evenly across the top of the yoghurt mixture on each fillet, then put the baking tray into the hot oven and cook for 15-20 minutes or until cooked through (the salmon will become opaque pink, rather than translucent, when it is cooked, and should flake easily when gently poked with a fork). As soon as they are ready, take the fillets out of the oven, garnish with the rest of the chopped parsley and serve.
Be inspired…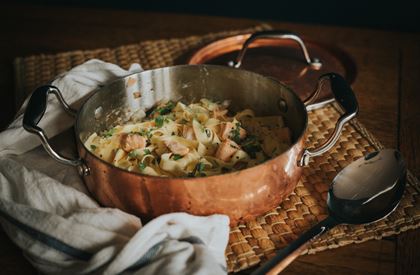 Rich, creamy and just the ticket for rumbling stomachs, this tasty pasta dish is straightforward and pretty speedy to put together, too. The salmon sauce is lovely with tagliatelle, but will work just as well with whatever pasta you have on hand.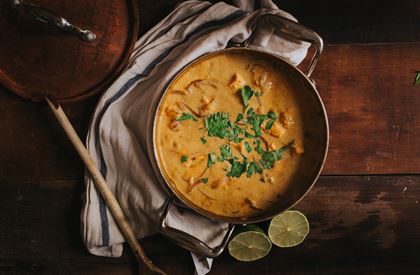 This speedy recipe makes a healthy and delicious dinner for cold nights. Made with rich salmon, fresh tomatoes and warming spices (but free from chilli), it's a simple, family-friendly meal that's good to have up your sleeve! Serve with Basmati rice. Serves 4.
Come and see us
Greendale Farm Shop
Sidmouth Road
Nr. Farringdon
Exeter
EX5 2JU
Opening hours
Mon-Sat 8am-10pm | Sun 8am-9pm