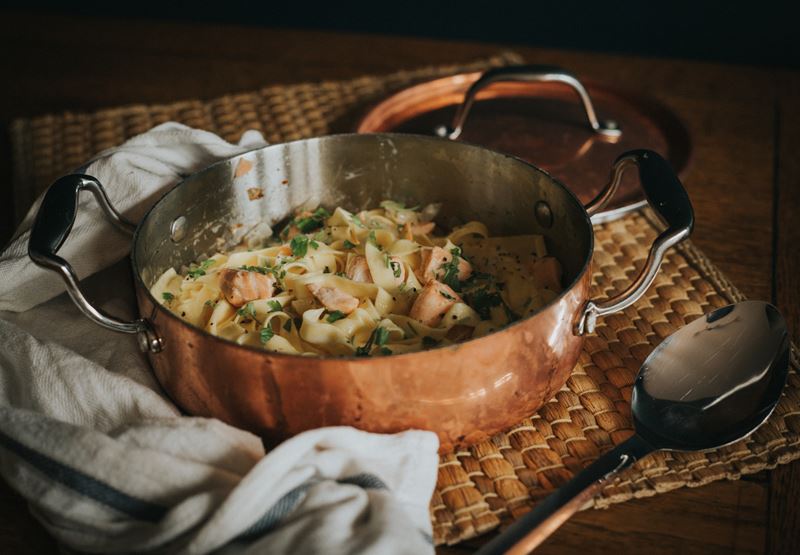 Creamy Salmon Tagliatelle Recipe
Rich, creamy and just the ticket for rumbling stomachs, this tasty pasta dish is straightforward and pretty speedy to put together, too. The salmon sauce is lovely with tagliatelle, but will work just as well with whatever pasta you have on hand. Serves 4.
Posted by:

John Williams

Posted on:
Method
Fill a large pan with cold water, add a pinch of salt and bring it up to the boil. Add the dried pasta and cook according to packet instructions (usually a fairly brisk simmer for about 10 minutes).
As soon as you've got the pasta started, take a large frying pan and add a good drizzle of olive oil. Place the frying pan over a medium heat, let the oil heat up for a moment or two, then put the garlic and diced onion into the pan and cook for 5 minutes, or until the onion has softened (stir every now and then so the garlic doesn't burn). Next, add the cubed salmon to the pan, together with the cream, and continue to cook over a low-medium heat for 4-5 minutes, until the salmon has cooked through completely.
By now the pasta will have cooked; drain it well, then tip it into the pan with the cream and fish. Season with salt and pepper to taste, grate over the lemon zest, then use a spoon and fork to lift and mix everything together well. Divide between four pasta bowls, sprinkle over the chopped parsley, and serve straight away.
Come and see us
Greendale Farm Shop
Sidmouth Road
Nr. Farringdon
Exeter
EX5 2JU
Opening hours
Mon-Sat 8am-10pm | Sun 8am-9pm