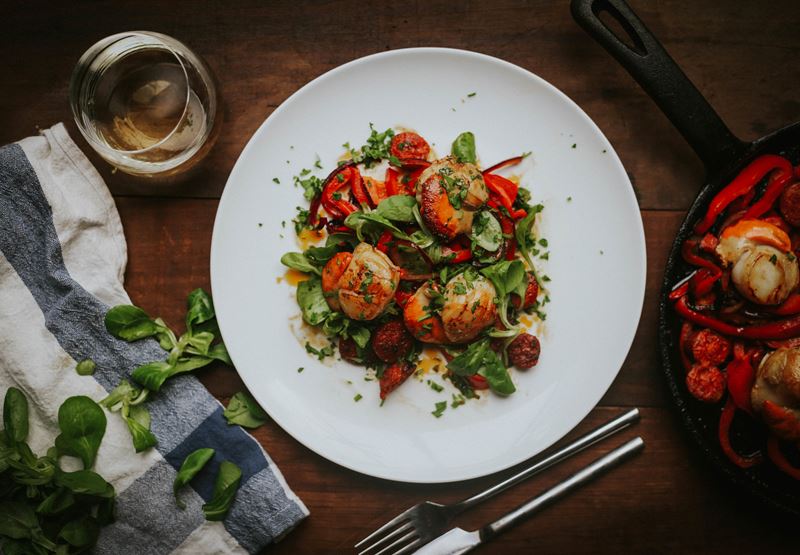 Greendale Scallops with Chorizo Recipe
Fresh, sweet scallops pair deliciously with flavour-packed chorizo in this easy one-pan recipe. It's worth laying the table before you start to cook, as it doesn't take long! Serves 4.
Posted by:

John Williams

Posted on:
Method
Slice the red peppers into slim strips and slice the onion as thinly as you can. Place a large frying pan over a medium heat and add two tablespoons of the oil; let the oil heat up, then add the onions and peppers. Cook them for 5-8 minutes or until softened, then add the chorizo to the pan and cook for another 2-3 minutes, stirring continuously. Next, take the pan off the heat and set it aside to rest while you cook the scallops. Use a piece of kitchen paper to pat any excess moisture gently away from the scallops, then season them on both sides with salt and pepper.
Place a clean frying pan over a high heat and add the remaining tablespoon of oil. Put the scallops into the pan and let them sizzle for exactly one minute, before turning them over and cooking the other side for a further minute – they will take on a lovely golden brown colour when cooked – then lift them out of the pan, sharing them equally between four serving plates. Mix the cooked peppers and onion with the salad leaves, adding a dash of balsamic vinegar, then share between the four plates. If there is any oil left in the veg pan, drizzle this over the scallops. Finally, scatter over the chopped parsley leaves, then serve.
Come and see us
Greendale Farm Shop
Sidmouth Road
Nr. Farringdon
Exeter
EX5 2JU
Opening hours
Mon-Sat 8am-9pm | Sun 9am-8pm