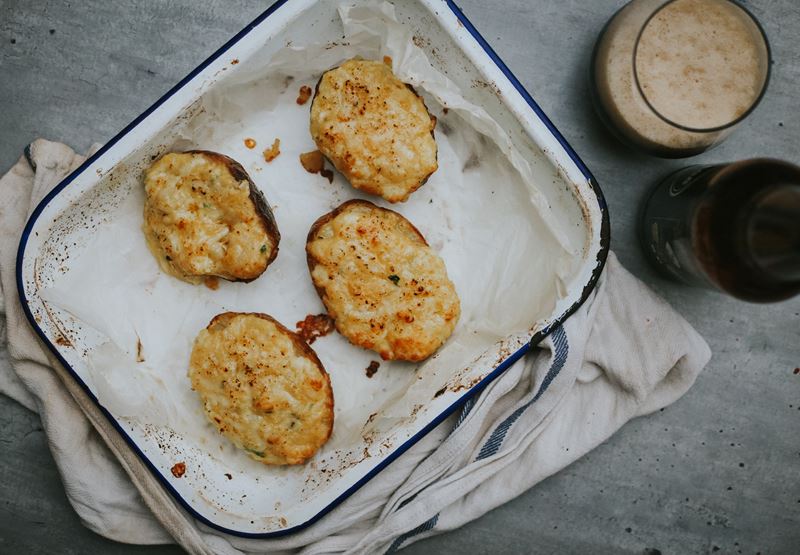 Rarebit Baked Potato Recipe
This Welsh-Rarebit inspired topping will make a rich, savoury meal out of your baked potatoes. If you are making them for vegetarians, check your cheddar cheese and Worcestershire sauce are vegetarian-friendly. Serves 4.
Posted by:

John Williams

Posted on:
Method
Cook your jacket potatoes as you normally would. Preheat the grill to medium-high. When the potatoes are cool enough to handle, cut them in half and scoop the flesh into a large mixing bowl, leaving about 1cm of the flesh still in each skin. Put the skins on to a lightly oiled baking sheet and set aside for a moment. Put the butter into the mixing bowl and mash it together with the potato flesh, then add the mustard powder, the ale, Worcestershire sauce, most of the cheese, the chives and the egg yolks. Mix everything together until well combined and season to taste with salt and pepper.
Next, use the filling mixture to stuff the potato skins, and sprinkle the reserved grated cheese over the top. Put the skins under the hot grill for 5-10 minutes, or until they are bubbling and golden, then serve hot, with a crisp green salad alongside.
Come and see us
Greendale Farm Shop
Sidmouth Road
Nr. Farringdon
Exeter
EX5 2JU
Opening hours
Mon-Sat 8am-9pm | Sun 9am-8pm