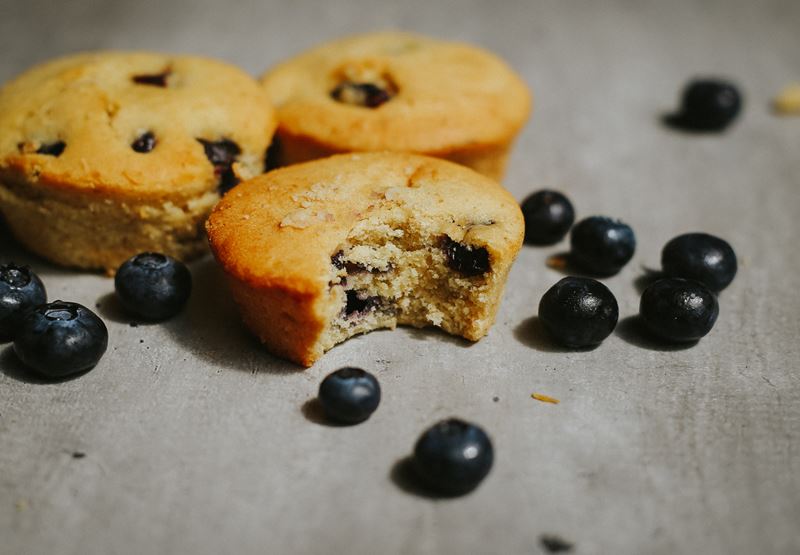 Blueberry Muffins Recipe
Great fun to make with kids, these tasty muffins are perfect for special breakfasts or teatime treats. The blueberries will burst inside the muffins during cooking, leaving sweet-tasting pops of juicy squidginess – if (like us) you can't resist eating these muffins straight from the oven, be aware that the burst berries can be pretty hot! Makes approximately 12 muffins.
Posted by:

John Williams

Posted on:
Method
Preheat your oven to 180°C (Gas Mark 4). In a large mixing bowl, beat together the softened butter and caster sugar until smooth and creamy, then break the eggs into the bowl and use a whisk to beat the mixture until light and fluffy. Next, gently fold in the flour and cinnamon, using a wooden spoon, and add a few gratings of nutmeg. The batter needs to be light and moist, so fold in enough of the milk to keep the mixture loose, rather than heavy or sticky (you may not need all of the milk, but equally you can add a little more if needed), then gently stir in the blueberries.
Lightly oil your muffin moulds, or line with paper cases if using, then divide the mixture evenly among them. Place the tray in the hot oven and cook for about 20 minutes before opening the oven door. To check if your muffins are cooked, press down gently on the top of one of them - it should spring back when you remove your fingers. If the muffins are not quite cooked, put them back in the oven for a couple more minutes. When you are satisfied that they're ready, leave the muffins to cool on a wire rack for as long as you can manage, then serve and enjoy!
Come and see us
Greendale Farm Shop
Sidmouth Road
Nr. Farringdon
Exeter
EX5 2JU
Opening hours
Mon 8am-8pm | Tues-Sat 8am-10pm | Sun 9am-7pm