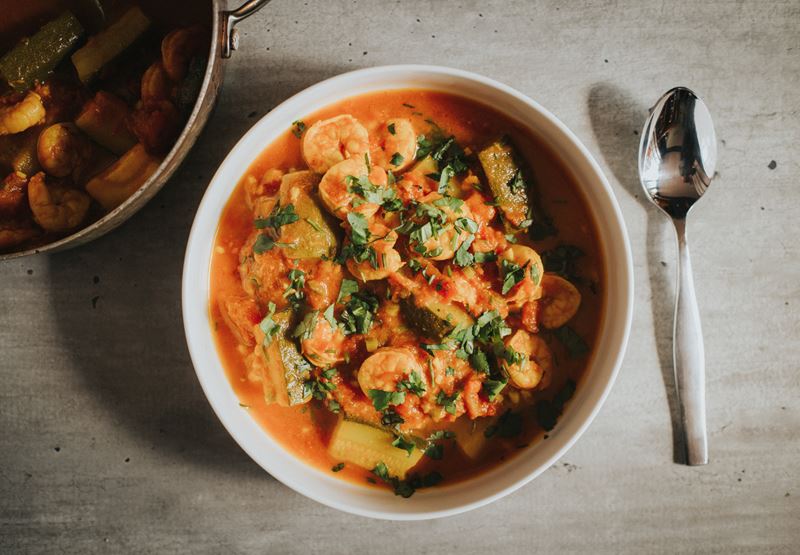 Bini Ludlow's Spiced King Prawns Recipe
This spiced king prawn recipe from Bini Ludlow is best eaten with freshly made chapattis and plain basmati rice. It also tastes lovely with plain natural yogurt and a simple side salad. Serves 3-4
Posted by:

John Williams

Posted on: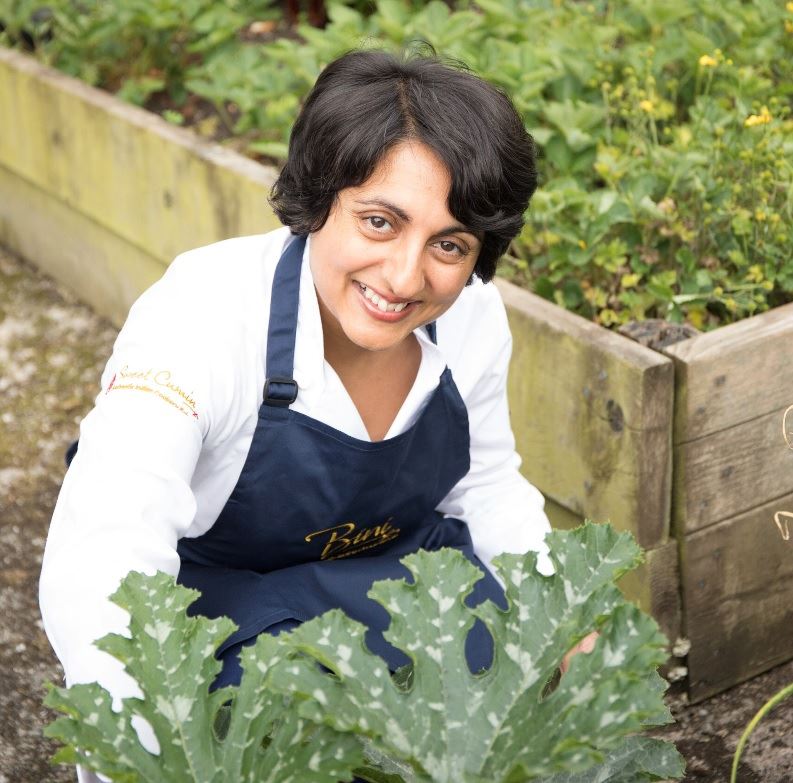 BINI LUDLOW
Bini's passion for traditional Indian cooking stems from being surrounded by experienced home cooks at the heart of Bradford's diverse culture. Bini set up Sweet Cumin to pass on her knowledge to budding cooks, young and old, who want to understand the importance of using spices, trying new flavour combinations and how to create and develop their
own dishes. Bini also has a range of authentic Indian ready meals  called Bini Fine Foods 


Ingredients
5 tbsp vegetable oil
6 cloves of garlic
3 cm length ginger
2 fresh green finger chillies
250g raw king prawns defrosted with no shell
250-300g courgettes
300g tin plum tomatoes- chopped
1 ¼ tsp salt
1 tbspn lemon juice
250ml of hot water
Dry ingredients to be put onto the small plate:
• 1½tsp ground cumin seeds (freshly ground)
• ½ tsp turmeric
• ¼ tsp red chilli powder
• 1 tsp coriander seeds - crushed
A 75g fresh coriander leaves only – washed in cold water and chop up finely
Method
Firstly scrub the courgettes and top and tail the ends. Then cut the courgette lengthwise into half and then each half needs to be cut into quarters crosswise and then each quarter cut into three parts lengthwise.
Put the courgette onto a plate and sprinkle ½ tsp. of salt over the pieces, toss and mix well and leave to one side for 45minutes. Drain and pat dry.
Place the prawns onto kitchen paper and pat dry.
Now peel and finely grate the ginger and chop up the garlic finely.
Take the stalk off the green chilli, wash in cold water and chop up finely. Avoid touching your eyes when handling chillies and wash your hands thoroughly after you have finished chopping them.
Chop up the fresh coriander – leave on a plate.
Cut the lemon in half and freshly squeeze one half and leave to one side.
In a wide sauce pan add the oil and turn the heat on to a medium to high flame, after 2 minutes or once hot, add the chopped garlic, stir and fry allow to sizzle in the oil for approx. 2 minutes or until they turn medium brown. Avoid the garlic from going black (brown on the edges).
Add the courgettes, ginger, green chilli, dry spices, salt, tomatoes, lemon juice to the sauce pan and stir and bring to a simmer once all the courgettes have coated thoroughly.
Add the prawns and stir them in.
Then add the hot water. Stir and simmer on a low heat for 15 minutes (Stir once or twice throughout to ensure the sauce doesn't stick to the sauce pan); until the courgettes are soft and break easily.
Check that the oil rises to the surface before taking it off the heat. Garnish with fresh coriander leaves.
You can uncover and turn the heat up to a medium flame and boil away the liquid if you wish to have a thicker sauce.
Be inspired…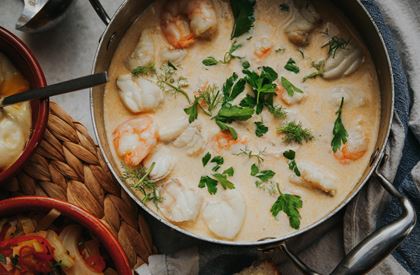 Originally from the Provence region of France, this fish stew is flavoured with a wonderfully aromatic garlic sauce, aïoli – if you have any extra aioli, it's delicious spread on crusty bread. We've used monkfish here, but most firm-fleshed white fish would also be fine.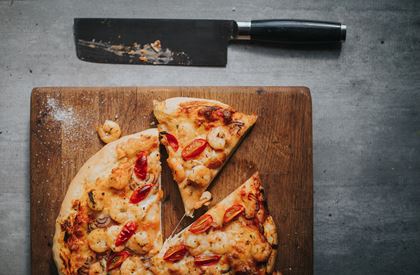 Garlic and prawns are a match made in heaven – and now you can enjoy them in pizza form! The dough will make one round pizza of about 25cm in diameter (or you can make several mini pizzas, but they won't need quite so long in the oven).
Come and see us
Greendale Farm Shop
Sidmouth Road
Nr. Farringdon
Exeter
EX5 2JU
Opening hours
Mon-Sat 8am-10pm | Sun 8am-9pm