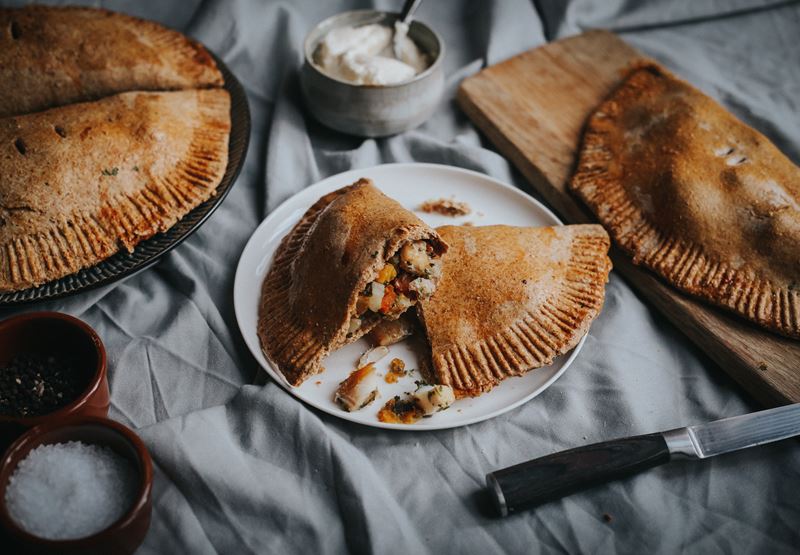 Smoked Haddock Parcels Recipe
Filled with savoury smoked haddock and veg and wrapped in home-made pastry, these savoury and satisfying parcels are great for a hearty lunch or light dinner – they're also pretty portable, making them perfect for a picnic. Serves 4.
Posted by:

John Williams

Posted on:
Ingredients
For the pastry:
750g Plain Flour
175g Butter, cold from the fridge
Approximately 260ml Cold Water
1 large Egg, beaten
For the filling:
2tbsp Light Olive or Rapeseed Oil
200g Potatoes, scrubbed and cut into small dice (about 5mm cubes)
125g Swede, peeled and cut into small dice (about 5mm cubes)
125g Carrot, trimmed, scrubbed and cut into small dice (about 5mm cubes)
1 White Onion, trimmed, peeled and cut into small dice (about 5mm cubes)
Sea Salt and freshly ground Black Pepper, to taste
Small bunch of Flat Leaf Parsley, leaves only, finely chopped
500g Smoked Haddock, skinned, boned and cut into 1cm chunks
Unsalted Butter
Method
First, make the pastry. Put the flour into a food processor, pulse quickly to remove any lumps, then cut the cold butter into dice and add to the flour. Blend until the mixture resembles fine breadcrumbs, then add the cold water gradually until the mixture comes together to form a smooth dough (you may not need all the water – equally, you may need more if you are using wholemeal flour). Take the pastry dough out of the mixer, wrap in clingfilm and put it in the fridge while you make the filling.
In a large, shallow pan, heat the olive or rapeseed oil on a medium heat, then add the prepared onions, swede, carrot and potato and lower the heat a little. Cook gently for about 10 minutes, until the onion is soft and translucent and the other veg is beginning to soften. Tip the veg into a large mixing bowl, then add the parsley and season with salt and pepper to your taste. Give everything a quick stir, then gently fold in the haddock pieces.
Preheat the oven to 180°C (Gas Mark 4) and lightly grease a large baking tray. Dust your work surface with a little flour, then take the pastry dough out of the fridge and divide it into four equally-sized pieces. Use your hands to roll each piece into a ball, then take a rolling pin and roll each ball out into a circle, roughly 25cm in diameter. Divide the filling mix equally into four, and spoon one portion on to half of each pastry circle, leaving the other half empty. Next, brush the beaten egg all around the edge of each pastry circle, then fold the empty half of each circle over the filling, making a pasty shape. Press along the edges with the tines of a fork to seal them, then use the fork to prick a few holes in the top of each pastry parcel, brushing the tops with the remaining beaten egg. Put the parcels on the greased baking tray, then put them into the hot oven and cook for 40 minutes, until golden brown. Remove the parcels from the oven and place them on a wire tray to cool for five minutes, then serve.
Be inspired…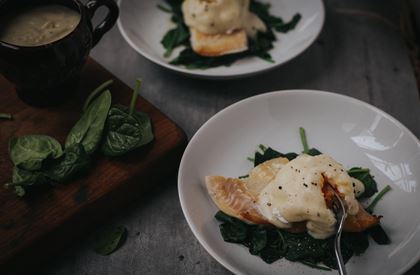 This easy recipe is perfect for an indulgent breakfast or laid-back brunch. Timing is key, so make sure you have all your ingredients and two plates to hand before starting to cook.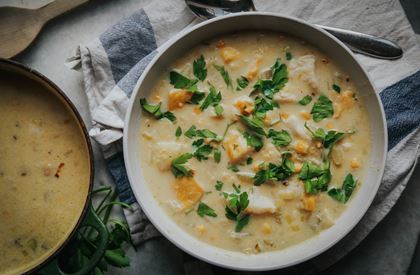 Packed with tasty Smoked Haddock and vegetables, creamy Chowder is a hearty and satisfying soup. Ready in about half an hour, it's just the ticket when you need a quick, warming meal for a chilly evening. Serves 4.
Come and see us
Greendale Farm Shop
Sidmouth Road
Nr. Farringdon
Exeter
EX5 2JU
Opening hours
Mon 8am-8pm | Tues-Sat 8am-10pm | Sun 9am-7pm