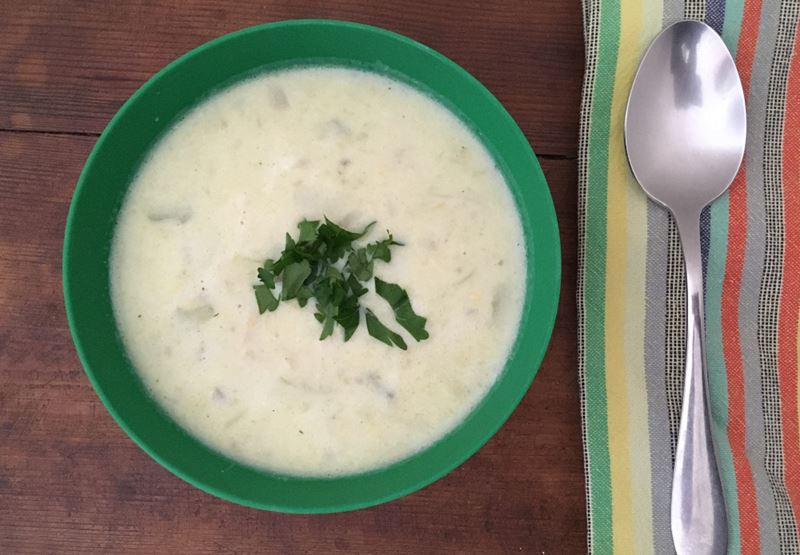 Easy Smoked Haddock Chowder Recipe
Packed with tasty Smoked Haddock and vegetables, creamy Chowder is a hearty and satisfying soup. Ready in about half an hour, it's just the ticket when you need a quick, warming meal for a chilly evening.
Serves 4.
Posted by:

John Williams

Posted on:
Ingredients
75g Butter
1 Onion, peeled and finely diced
1 stick of Celery stick, washed and finely sliced
1 Leek, washed, trimmed and finely sliced
3 Potatoes, washed and cut into small, even dice
600ml Milk
200ml Fish Stock (it's fine to use Chicken or Vegetable Stock if preferred)
500g skinless Smoked Haddock, cut into roughly 4cm pieces
1 can Sweetcorn, drained
Fresh Parsley, finely chopped
Method
Put the butter into a large saucepan and allow it to melt over a low heat. Add the chopped onion, celery and leek to the pan and cook gently for about 10 minutes, until softened. Put the potatoes into the pan and stir to mix, then pour in 400ml of the milk and add the stock. Bring the pan up to the boil, then reduce the heat and simmer for 15 minutes, or until the potatoes are tender. While the vegetable are simmering, put the fish in a separate saucepan, pour over the remaining milk and bring up to the boil. As soon as the fish has cooked (it's ready when it becomes opaque and flakes easily - this won't take long), lift it out of the pan with a slotted spoon and set it aside, then pour the milk into the pan containing the veg.
Tip the sweetcorn into the veg pan, too, and heat through for a minute or two. Next, take the pan off the heat, ladle half of the mixture into a food processor and blend until smooth. Return the blended mixture to the saucepan and place over a low heat. Carefully flake the fish with a fork, then fold it into the Chowder. Continue to heat the Chowder until it is properly hot all the way through, then garnish with parsley and serve.
Be inspired…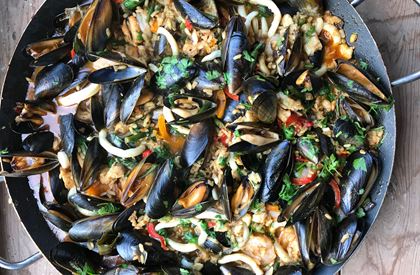 At Greendale we love our fresh fish, so we've re-interpreted the traditional Paella recipe in order to cram in as much delicious seafood as possible! If you don't have a Paella Pan you can use a very wide, shallow saucepan or sauté pan, or a large, flame-proof casserole dish. Serves 4-6 (appetite-depending!).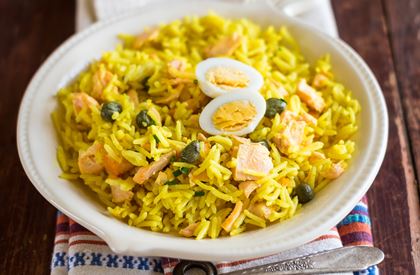 This delicious spiced fish dish makes a perfect brunch or dinner with friends. It's a great showcase for tasty smoked haddock, though other smoked fish (such as hake) can be used equally successfully.
Come and see us
Greendale Farm Shop
Sidmouth Road
Nr. Farringdon
Exeter
EX5 2JU
Opening hours
Mon-Sat 8am-8pm Sunday 9am-6pm