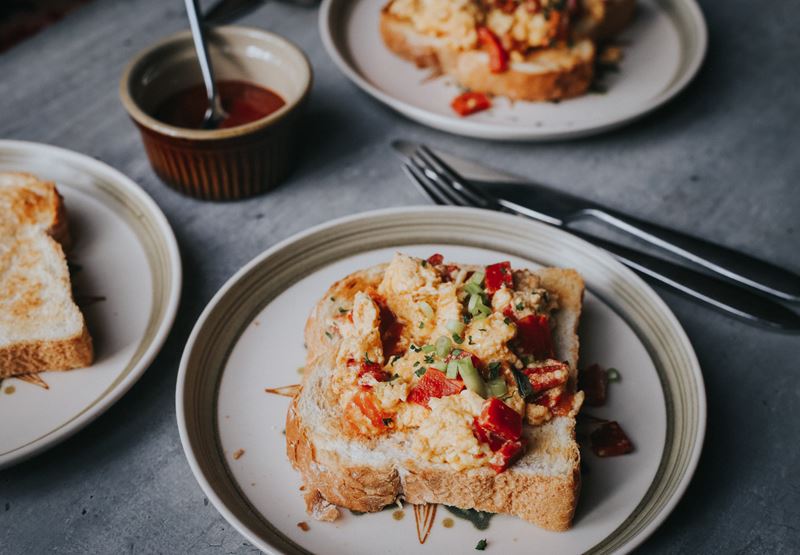 Super-Charged Scrambled Eggs
Eggs are the original 'fast food', and scrambled eggs can be ready in minutes for a quick and easy breakfast or light lunch. They're great served piled on toast with ketchup (and maybe a rasher or two of bacon), or sitting atop some smoked salmon on a toasted bagel; this recipe is a little healthier, however, and a lot more interesting. It's made with vibrant red pepper, tomato and spring onion – if you like heat, you can add a dash of Tabasco or pinch of chilli flakes during cooking. Serves 2.
Posted by:

John Williams

Posted on:
Ingredients
4 large Eggs
1 tbsp Milk
A good knob of Unsalted Butter (10-15g)
4 Baby Plum or Cherry Tomatoes, finely chopped
½ a small Red Bell Pepper, trimmed, de-seeded and finely chopped
1 Spring Onion, trimmed and finely chopped
2 slices (or more, according to appetite) of your favourite Bread
About 1 tbsp of fresh Parsley, leaves only, finely chopped
Sea Salt and freshly ground Black Pepper, to taste
Method
Put the eggs and milk into a mixing bowl, Season well with the salt and pepper, then beat them together with a fork until well combined. Next, put a saucepan over a low-medium heat, add the butter and let it melt, then put in the prepared onions, tomato and pepper. Let the vegetables cook for about five minutes, stirring regularly, until they have begun to soften and colour, and have lost some of their rawness. Put your bread into the toaster to toast.
Turn the heat right down, and pour the egg mixture into the pan. Let it cook undisturbed for just a moment or two; then, as the mixture begins to set on the bottom and sides of the pan, use a wooden spoon or spatula to gently lift and fold it over, mixing it into the veg. Cook for a couple of minutes, until the eggs are softly set but still moist. Put the toast slices on to two plates, then pile the eggs on top of the toast and scatter over the parsley. Serve straight away.
Come and see us
Greendale Farm Shop
Sidmouth Road
Nr. Farringdon
Exeter
EX5 2JU
Opening hours
Mon-Sat 8am-9pm | Sun 9am-8pm