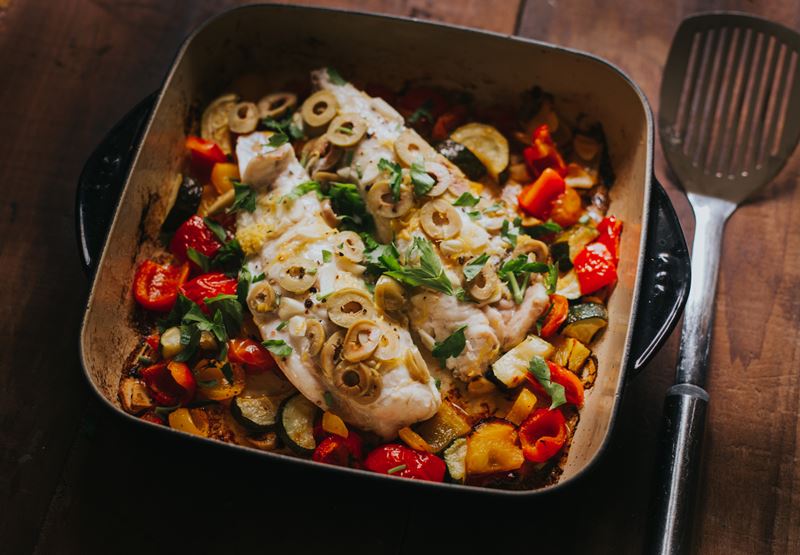 Baked Red Mullet with oven-roast vegetables
Baking fish in a parcel is a healthy way to cook it; all the flavour remains, but the fat runs out of the fish as it cooks. This recipe lets your oven do most of the work, as the tray of tasty roast veg will cook alongside the fish – served together, perhaps with a handful of salad leaves, they make a delicious meal any night of the week. Serves 4.
Posted by:

John Williams

Posted on:
Ingredients
For the fish:
4 Red Mullet fillets, approximately 225g each
1 Lemon, zested, then cut in half and juiced for the veg (see below)
1 tbsp Green Olives (stone-free), drained and sliced into rings
2 large cloves Garlic, peeled and finely sliced
For the veg:
500g Cherry or Baby Plum Tomatoes, washed and halved
1 Yellow Pepper, washed, trimmed, de-seeded and cut into bite-sized pieces
1 Red Pepper, washed, trimmed, de-seeded and cut into bite-sized pieces
1 medium Courgette, washed, trimmed and sliced into 0.5cm 'coins'
3 cloves Garlic, peeled and finely sliced
The juice from the Lemon used for the fish (see above)
Light Olive Oil
Sea Salt and freshly ground Black Pepper
Small bunch of Flat-Leaf Parsley, washed, leaves picked and roughly chopped
Method
Preheat your oven to 200°C (Gas Mark 6). Tip the prepared tomatoes, peppers, courgette and garlic into a roasting tray or ovenproof dish, spreading them out in a single layer. Sprinkle over the lemon juice and drizzle over a good glug of olive oil, then season well with salt and pepper and mix, making sure all the vegetables are coated evenly.
When the tray of veg has had about 10 minutes in the oven, take a roll of kitchen foil and tear off four large sheets. Lay the foil sheets down flat, then tear off four slightly smaller sheets of non-stick baking paper and place one on top of each piece of foil. Next, put two fish fillets side by side on each piece of baking paper, and scatter the lemon zest evenly over all the fish. Share the olive and garlic slices evenly amongst the fish, too, then season the fish with salt and pepper. Bring the sides of each parcel up and fold them over, scrunching the edges to seal, then place the parcels one at a time on a large baking tray.
Check the veg and turn them over if necessary – they should be starting to soften and colour. Slide the baking tray into the hot oven with the vegetables and bake for about 10 minutes (when cooked, the fish will flake easily if pressed in the centre). If you feel that the veg are cooked and may burn, you can take them out of the oven and cover the tray with foil to keep warm while you wait for the fish.
When everything is cooked, remove from the oven. Share the cooked vegetables equally between four plates, then use a fish slice to lift the fish fillets out of their parcels and sit two fillets on each plate, on top of the veg. Scatter over the chopped parsley, add salad leaves (if using) and serve.
Be inspired…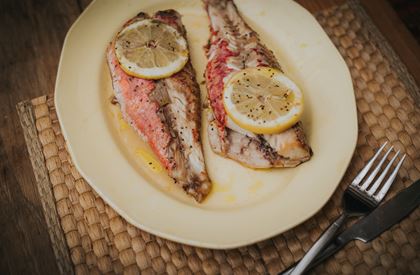 Beautiful Red Mullet taste every bit as good as they look. It's easy to grill or oven-bake either whole or filleted, but we like them best on the barbecue. Serve with something simple, like crusty bread or our New Potato Skewers [hyperlink to recipe needed] (also a BBQ favourite) and garlic mayo.
Come and see us
Greendale Farm Shop
Sidmouth Road
Nr. Farringdon
Exeter
EX5 2JU
Opening hours
Mon-Sat 8am-10pm | Sun 8am-9pm