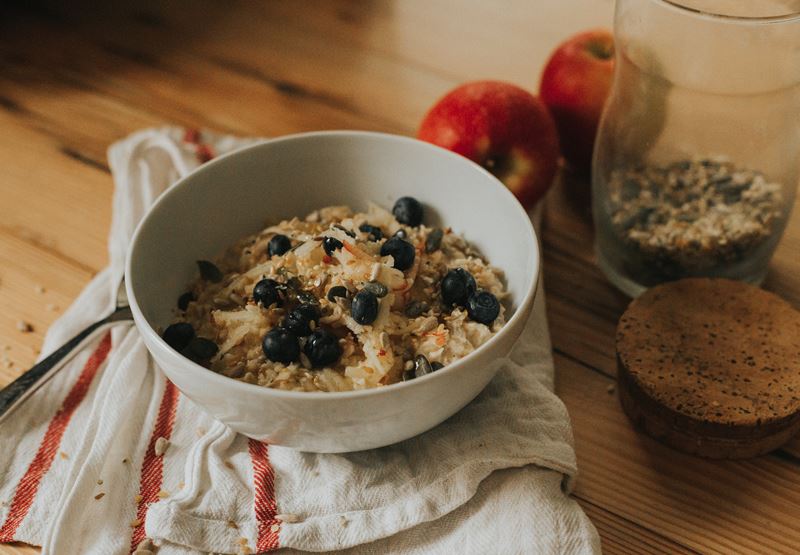 Powered by Porridge
Porridge is the perfect 'fuel' for cold days, and a great choice for a healthy start to the day.  Take your porridge to a whole new level and try out some of our topping ideas.
Posted by:

John Williams

Posted on:
Home-made oat porridge is packed with a soluble fibre, beta-glucan, which can help to lower cholesterol levels when 3g or more is consumed each day; beta-glucan also staves off hunger pangs until lunchtime, and - because oats have a low glycaemic index, helping to prevent blood sugar spikes - cravings for a mid-morning snack become less likely. Oats are rich in minerals, including magnesium, iron and zinc, as well as the B vitamins, and making your porridge with milk will increase the vitamin and calcium content. You can of course use your own choice of plant milks (or just water), too, as well as adding in different grains, such as quinoa, buckwheat or millet flakes.
Having said all that, it can be a struggle to eat the same thing regularly (however healthy it might be) if you find it boring or unappetising. Breakfast is said to be the most important meal of the day, so why not take your porridge to a whole new level and try out some of our topping ideas? Our easy suggestions mean you can wake up to a different and delicious breakfast every day – they're just guidelines, so don't be afraid to mix things up and experiment!
Fruit
Fresh, frozen or dried, most fruit is fab with porridge, especially if you have a sweet tooth. You can make a quick fruit topping by heating a handful of fresh or frozen berries in a pan together with a splash of water, a little grated orange zest and a squeeze of honey, stirring until the mixture thickens (just a few minutes) and then spooning it over the cooked porridge. Pears or apples can be peeled, cored and grated into the porridge as it cooks – a sprinkle of ground cinnamon or cardamom is a nice addition here. Dried cranberries, sultanas or chopped dates can be stirred into the porridge as it cooks, together with some grated lemon or orange zest and a pinch of cinnamon, and if you're feeling under the weather, you could try grating in a little peeled fresh ginger, with some lemon zest and a spoonful of honey.
NUTS
Nuts and Seeds Well-deserving of their 'superfood' status, nuts and seeds are a great way to add some extra protein and fibre to your morning meal. For a quick but delicious topping, roughly chop a small handful of your favourite nuts – we like almonds – and toast them in a hot pan (it will take just minutes, so keep an eye on them and shake the pan regularly), sprinkling them over your cooked porridge. You can also make a sticky but oh-so-good topping by toasting a teaspoon each of your favourite seeds and chopped nuts (pumpkin seeds are particularly good), adding a squeeze of honey, some lemon zest, a pinch of cinnamon and a pinch of salt to the pan, and stirring until the nuts are toasted – again, this won't take long.
SCANDI
Look North Porridge is much-loved by our Scandi cousins, helping to power them through long, dark winters and sub-zero temperatures. Porridge for dinner is actually pretty popular, and a special porridge is served at Christmas; if someone is said to be 'in the butter eye' in Denmark, it means they're having a lovely time – the 'butter eye' refers to the delicious melted pool of butter on the top of a bowl of porridge (maybe a bit less healthy, but definitely good - try it!). Warming spices, like cardamom and cinnamon, are great Scandi-style additions to porridge, and berries can be cooked in with the oats to release their colour and flavour - lingonberries and cloudberries might be hard to find in the UK, but blueberries, strawberries and even frozen cherries will do the job beautifully. The Swedish concept of 'lagom' – roughly, 'just the right amount' – is a great guide when it comes to building a healthy breakfast; if you're mostly eating oats and fruit, it's definitely OK to balance this with just a little something extra, be it a dash of cream, a squeeze of honey or even some grated dark chocolate. Happy breakfasting!
Come and see us
Greendale Farm Shop
Sidmouth Road
Nr. Farringdon
Exeter
EX5 2JU
Opening hours
Mon 8am-8pm | Tues-Sat 8am-10pm | Sun 9am-7pm