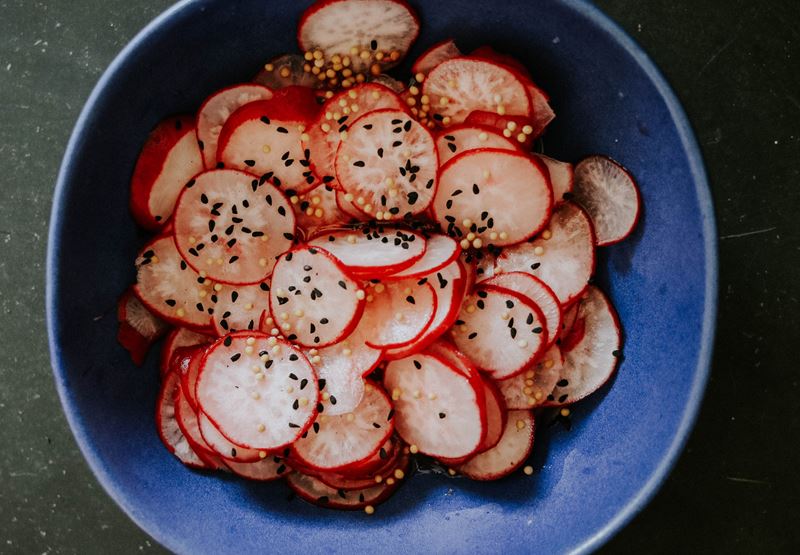 Easy Radish Pickle
Home-pickling doesn't have to mean hours of laborious chopping and simmering, with the resulting jars jostling for space in the store cupboard; this quick, simple recipe is made in moments from fresh radishes, and is designed to make just enough to serve as part of a summer spread.
Posted by:

John Williams

Posted on:
Quick and easy to make ahead, this pickle will sit happily in the fridge until you need it (the longer you leave it, the pinker the pickling liquid will become!).
Ingredients
1 pack Radishes (about 10 or so) washed, topped and tailed and sliced into fine discs - a mandolin is good for this
1½ tablespoons White Wine Vinegar
Juice of half a Lemon
½ teaspoon Salt
1 level teaspoon Sugar
1 teaspoon Mustard Seeds
1 teaspoon Nigella Seeds or Black Onion Seeds
Method
Put the sliced radishes into a bowl, then simply add all the other ingredients and mix well to ensure the salt and sugar dissolve and everything combines nicely. Allow to stand for at least 30 minutes before serving; if you are making the pickle ahead, it's a good idea to make it in a Tupperware dish with a lid and put it in the fridge until needed.
Come and see us
Greendale Farm Shop
Sidmouth Road
Nr. Farringdon
Exeter
EX5 2JU
Opening hours
Mon-Sat 8am-9pm | Sun 9am-8pm