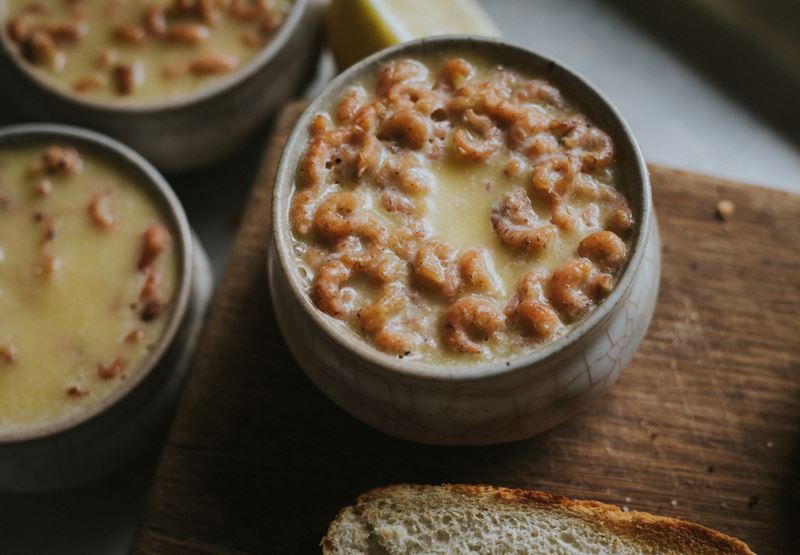 Potted Shrimps
This simple recipe uses spiced, clarified butter to preserve the shrimp for later use. Originally hailing from the north of England, where it's still made with tiny brown Morecambe Bay Shrimps, it's a great way to use Brown Shrimps (or any other shrimps). Best served with a big plate of warm toast. Serves 6.
Posted by:

John Williams

Posted on:
Method
You'll need to start making this recipe the day before you want to eat the Potted Shrimp. First, place a small saucepan over a low heat, add the butter and allow it to melt. Next, add the cayenne pepper and nutmeg, then stir the shrimps gently into the hot butter and season to taste with salt and pepper.
Remove the shrimp with a slotted spoon, and divide them equally amongst six ramekins, pressing them down a little. When they have cooled, put them in the fridge to chill for about 15 minutes. When they have set, remove the ramekins from the fridge and pour the remainder of the butter from the saucepan over the shrimp to cover them (you may need to reheat the butter to melt it again). Return the ramekins to the fridge to set overnight.
Remove the Potted Shrimp from the fridge shortly before you are ready to eat, and serve with the lemon wedges and plenty of freshly-made toast.
Come and see us
Greendale Farm Shop
Sidmouth Road
Nr. Farringdon
Exeter
EX5 2JU
Opening hours
Mon-Sat 8am-10pm | Sun 8am-9pm