Peeled Brown Shrimp - 200g [PRE-ORDER FOR XMAS]
Product description
Next time you're frying a fillet of fish, add a handful of these little frozen peeled Brown Shrimp to the pan - they'll add real 'oomph' to the flavour.
*PLEASE NOTE* This seasonal item is only available to pre-order for collection or delivery between 01/12/2020 and 31/12/2020 (exclusions apply). In the basket please choose the Pre-Order for Christmas options.
Be inspired…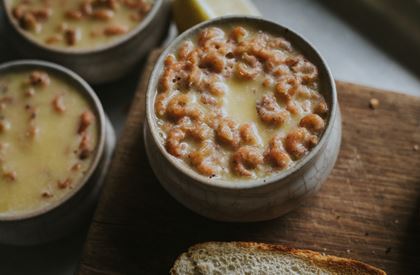 This simple recipe uses spiced, clarified butter to preserve the shrimp for later use. Originally hailing from the north of England, where it's still made with tiny brown Morecambe Bay Shrimps, it's a great way to use Brown Shrimps (or any other shrimps). Best served with a big plate of warm toast. Serves 6.
Come and see us
Greendale Farm Shop
Sidmouth Road
Nr. Farringdon
Exeter
EX5 2JU
Opening hours
Mon-Sun 7am-10pm