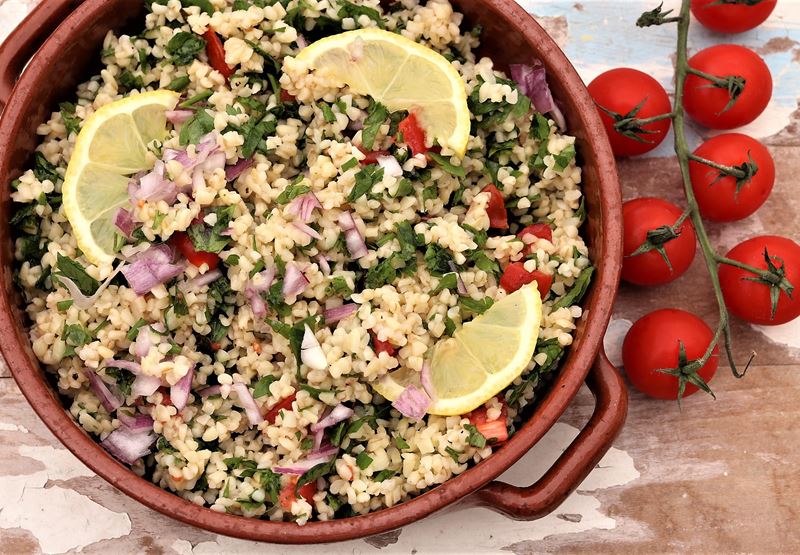 Tabbouleh Salad
Don't stint on the fresh herbs for this classic Middle Eastern salad. Full of superbly summery flavours, it's perfect served alongside grilled fish and meat, and is always a hit at barbecues. Serves 4.
Posted by:

John Williams

Posted on:
Method
Fill and boil a kettle of water, then put the bulghur wheat in a small bowl and cover with 50ml of the boiling water. Stir well, then set aside for about 20 minutes, until the wheat has absorbed all of the water. Remove the green stalks from the tomatoes and make a small cross at the base of each fruit. Place the tomatoes in a separate bowl of boiling water, ensuring each is submerged fully. Wait for 30 seconds, then drain away the water. When the tomatoes are cool, peel them and discard the skins. Cut the tomatoes into quarters, then discard the seeds. Dice the remaining flesh and transfer it to a serving bowl.
Add the parsley, mint and red onion to the serving bowl, and mix until well combined with the tomatoes. When the bulgur wheat is ready, separate the grains with a fork and then add the wheat to the tomato mixture. Drizzle over the olive oil, add the lemon juice and season to taste with the salt. Mix well to ensure all the ingredients are coated evenly, then serve.
Come and see us
Greendale Farm Shop
Sidmouth Road
Nr. Farringdon
Exeter
EX5 2JU
Opening hours
Mon-Sat 8am-8pm Sunday 9am-6pm