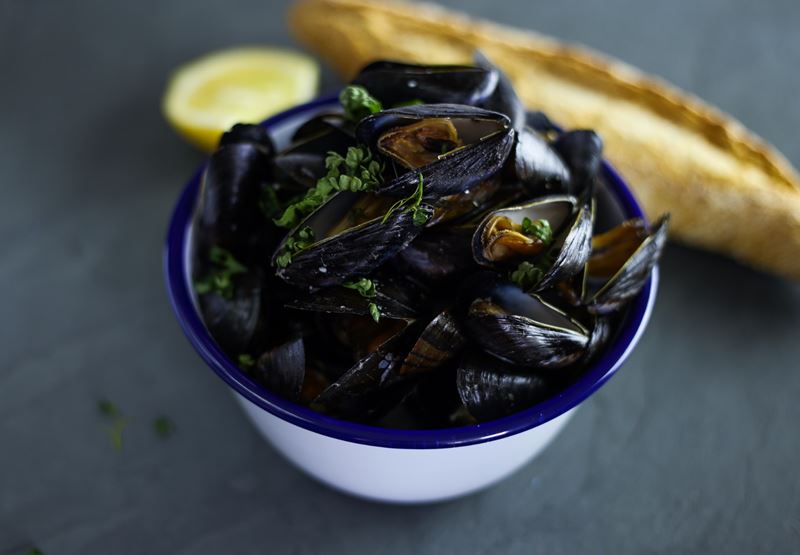 How to cook mussels
Posted by:

John Williams

Posted on:
Supplied by the award-winning (and very local) Exmouth Mussels, these delicious live mussels are the real deal; having spent their lives eating plankton in the sparkling waters of the Exe, their plump meat is full of flavour – we think they're the best we've tasted. Follow Mitch Tonks' easy recipe and they could become a regular fixture on your table.
Preparation time: less than 30 mins
Cooking time: less than 10 mins
Serves: Serves 4 as a starter
Method
Clean and debeard the mussels. If any mussels are opened, tap them lightly on a hard surface. If they don't close, discard them.
Heat the olive oil in a wide, heavy-based pan. Add the shallots and garlic and cook until softened, but not browned.
Add the wine to the pan and boil for a minute to burn off the alcohol.
Add the mussels to the pan. Add most of the chopped parsley, cover the pan with a lid and cook the mussels for about 3-4 minutes, giving the pan a shake from time to time. The mussels are cooked when they've opened up. Be sure to discard any that don't open.
Sprinkle in the remaining parsley, then spoon the mussels into a serving bowl. Pour over the cooking liquid and serve with some crusty bread.
Come and see us
Greendale Farm Shop
Sidmouth Road
Nr. Farringdon
Exeter
EX5 2JU
Opening hours
Mon-Sat 8am-10pm | Sun 8am-9pm