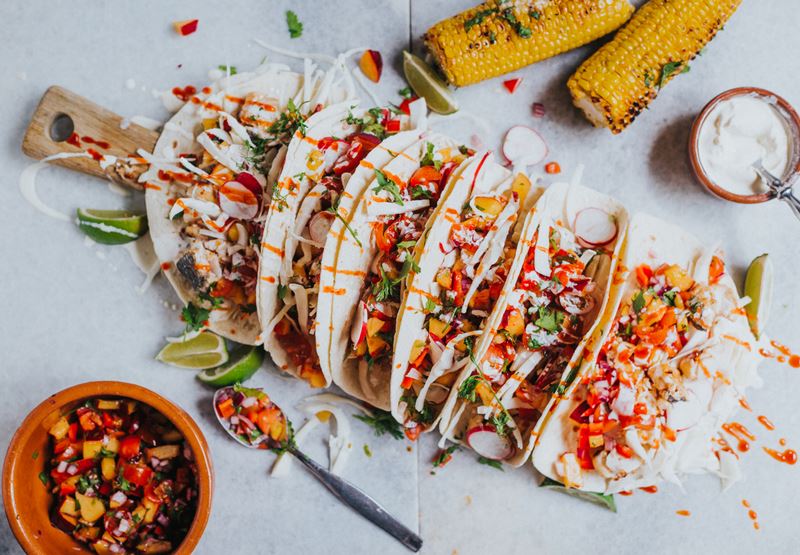 BBQ Hake Tacos with Fresh Peach Salsa
Serve up these tasty skewers and let guests build their own perfect fish tacos! We've used hake here, but you can use any firm, white fish fillets. Serves 2-4.
Posted by:

John Williams

Posted on: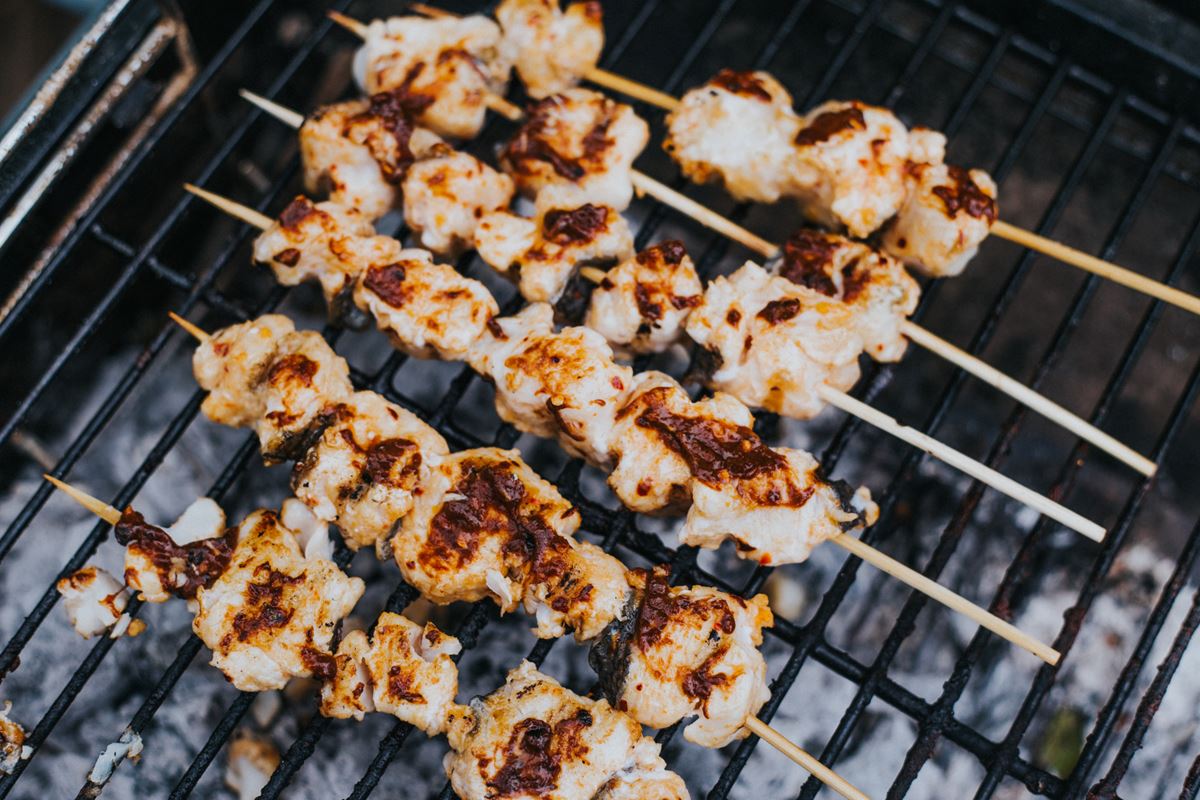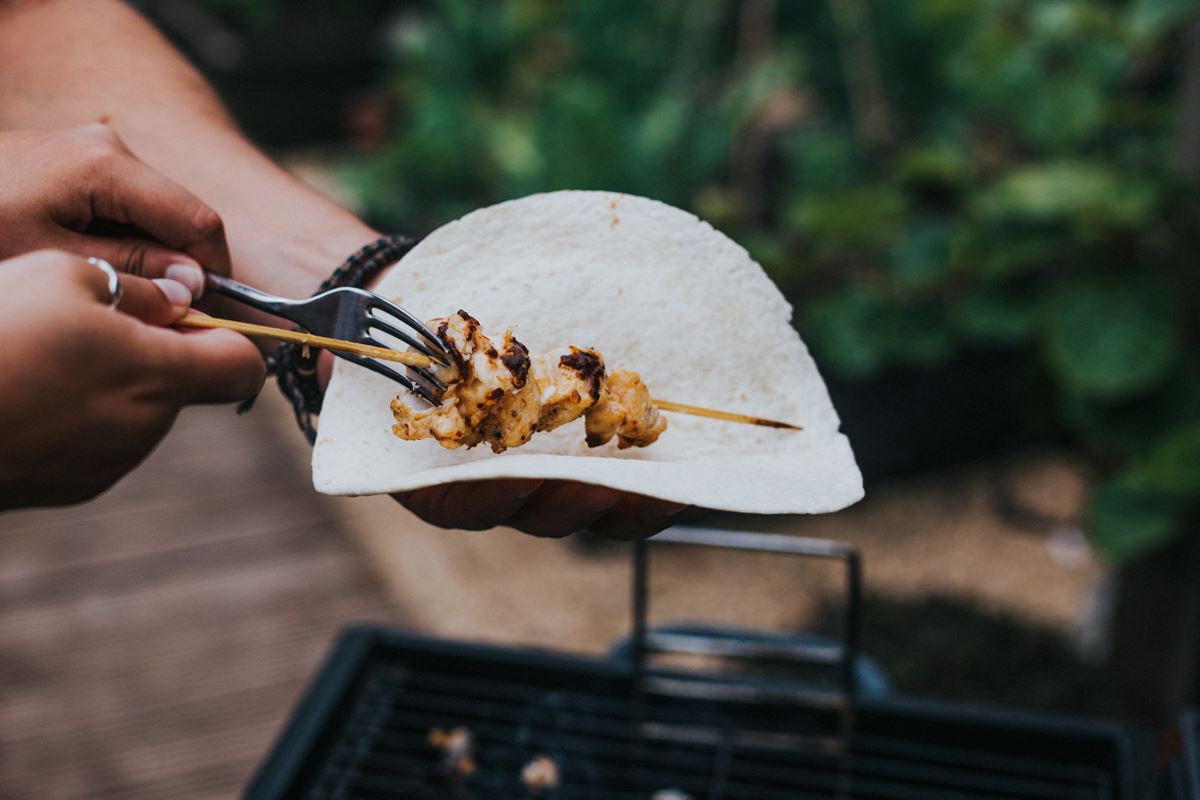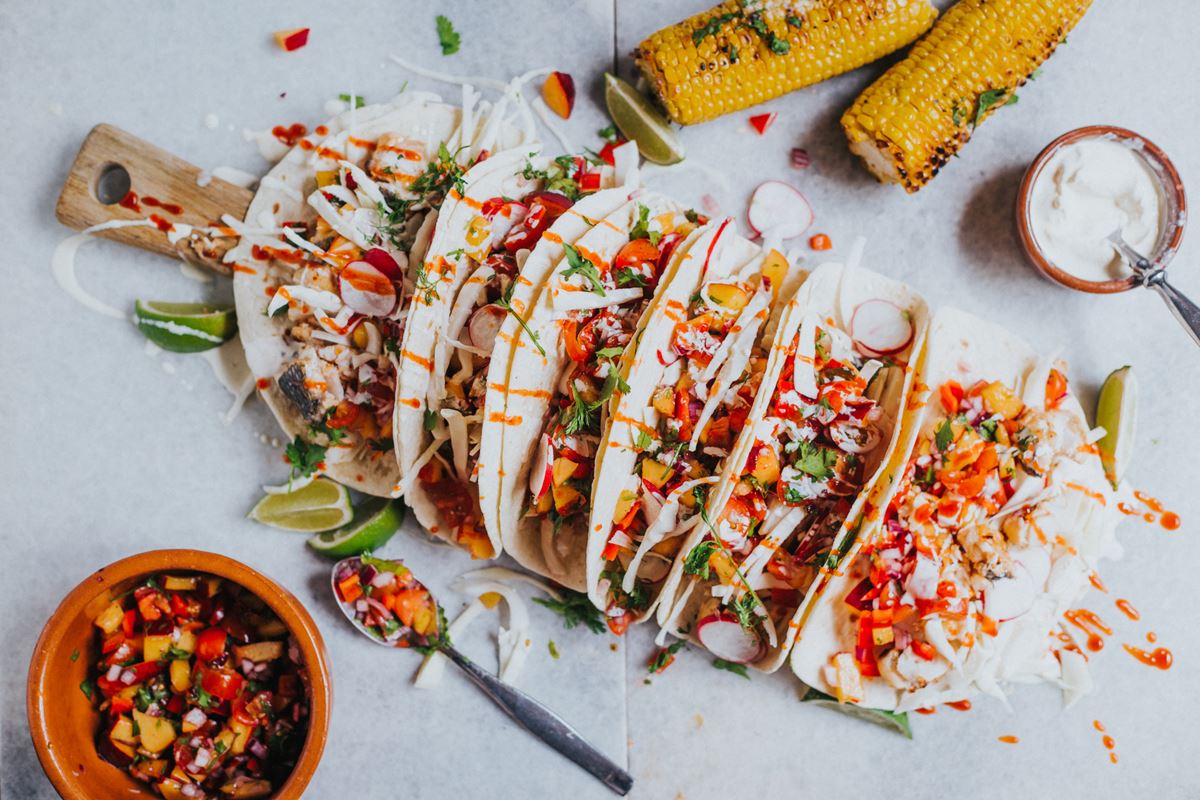 Ingredients
2 x 200g Greendale Hake Loin
1 Lime, zest and juice
1 tbsp Runny Honey
1 tbsp Olive Oil
1 tsp Chipotle Paste
1 tsp Ground Cumin
½ tsp Ground Cinnamon
1 tsp Soft Brown Sugar
Sea Salt and freshly-ground Black Pepper
For the salsa:
1 small Red Onion, peeled, trimmed and very finely diced
2 Limes, juice only
2-3 ripe Peaches, chopped into small dice
½ Red Pepper, trimmed and deseeded, diced to the same size as the peaches
1 red chilli, trimmed and finely chopped (de-seed it if you prefer less heat)
120g Mini Plum or Cherry Tomatoes, chopped into small dice
Small bunch fresh Coriander, leaves only, washed and finely chopped
Sea Salt and freshly-ground Black Pepper, to taste
To serve:
1 pack Soft Corn Tortillas
½ a small White Cabbage
4 large Radishes, washed
Sour Cream or thick Natural Yoghurt
Hot Sauce of your choice
*Please note: if you are using wooden skewers, remember to soak them in water for at least 10 minutes prior to use.*
Method
Cut the hake fillets into roughly 3cm cubes, then put them into a large, shallow dish and add the lime zest and juice, honey and olive oil. Mix gently to combine, then cover the dish and put it in the fridge to marinate for at least half an hour. Meanwhile, put the chipotle paste, cumin, cinnamon and sugar into a small bowl, add a pinch of salt and a few grinds of pepper, and stir to combine. When the fish has had its marinating time, take it out of the fridge and carefully thread it on to metal or wooden skewers. Remove the fish, and skewer it onto metal or wooden skewers (see note above). Dot the skewers with the chipotle spice mix, then put them back on a clean tray, cover and refrigerate until ready to cook. If you're using charcoal, now is a good time to light the barbecue if you haven't done so already.

To make the salsa, put the chopped onion into a mixing bowl with the lime juice and a pinch each of salt and pepper, stir to combine, then set aside for 5-10 minutes (this allows the onion to soften). Stir the prepared peaches, red pepper, tomatoes and chilli into the onion mix, then add the coriander and check to see if you think it needs any more salt or pepper. Set aside until needed.

Before you start cooking the fish, get all the accompaniments ready so that you can eat straight away when the fish is ready. If there's room on the barbecue, you can wrap the tortillas in foil and warm them while the fish cooks (if not, put the foil parcel in a low oven instead). Thinly shred the cabbage and put it in a serving dish, then slice the radishes as thinly as you can and tip into another small serving bowl. Have the hot sauce and yoghurt or sour cream ready to hand, together with your plates and cutlery.
When you (and the barbecue) are ready, place the fish on the grill and cook for about 3 minutes on each side, until the flesh is firm and opaque, with some nice charred grill marks. Put a warmed taco on to each plate, then use a fork to gently empty the cooked skewers on to the tacos. The tacos can then be assembled to personal preference with the salsa, veggies, sour cream and hot sauce, then rolled up and devoured.
Be inspired…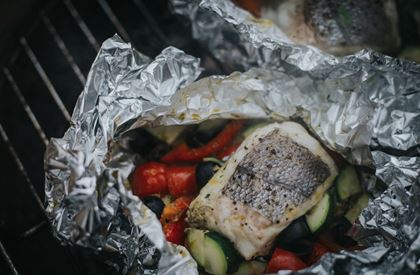 With its firm flesh and mild taste, hake pairs well with robust flavours. Here, it's teamed with pesto, olives and vibrant veg and foil-baked on the barbecue. Delicious!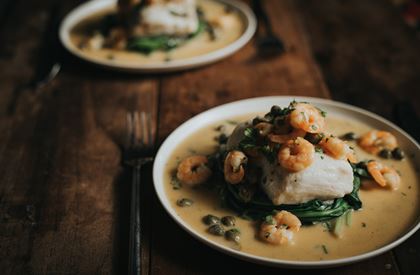 Caught by our boats and MSC approved, our Hake is served with plump prawns and a buttery, caper-filled sauce. This lovely dish is perfect for lunch or a light supper – serve with your favourite veg, some crusty bread or a few handfuls of crisp salad leaves.
Come and see us
Greendale Farm Shop
Sidmouth Road
Nr. Farringdon
Exeter
EX5 2JU
Opening hours
Mon-Sat 8am-10pm | Sun 8am-9pm