Barbecued Hake Pesto Parcels Recipe
With its firm flesh and mild taste, hake pairs well with robust flavours. Here, it's teamed with pesto, olives and vibrant veg and foil-baked on the barbecue. Delicious! Serves 4.
Posted by:

John Williams

Posted on:
Method
About half an hour before you plan to start cooking, light the barbecue and wait for the flames to die down until the charcoal is light grey and glowing. While you are waiting, prep the vegetables. To make the parcels, lie a long sheet of foil (approx. 30-40cm) on your work surface; lay another piece of foil across the middle of it at right angles, to make a cross shape. Repeat, to make another foil cross, then divide the vegetables and the olives equally into two and make a pile at the centre of each foil cross. Pull the sides of the foil up a little, then whisk the pesto together with the tablespoon of oil and drizzle this over the veg parcels. Next, sit a piece of hake skin-side up on top of the veg in each parcel, then season well with salt and pepper and a little extra drizzle of oil. Pull the sides of the parcel up tightly and roll them together so the parcel is tightly sealed (if in doubt, use more foil until your parcel is leak-proof – it doesn't matter if it doesn't look neat!).
When the barbecue is ready, place the parcels on the grill and cook for 15 minutes, until the fish is opaque, flaky and thoroughly cooked. (If you don't want to use a barbecue, you can cook the parcels in the oven at 180°C (Gas Mark 4) for 15-20 minutes.) When the fish has had its time, transfer the parcels from the barbecue to four serving plates. Open the foil, being careful to avoid any steam, and tear a few of the fresh basil leaves into each parcel. Serve straight away, with plenty of bread to catch the tasty juices.
Be inspired…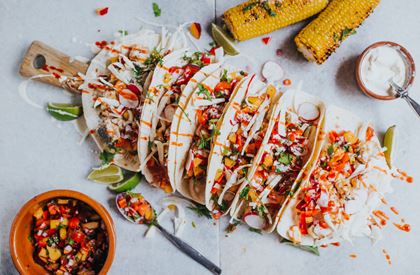 Serve up these tasty skewers and let guests build their own perfect fish tacos! We've used hake here, but you can use any firm, white fish fillets.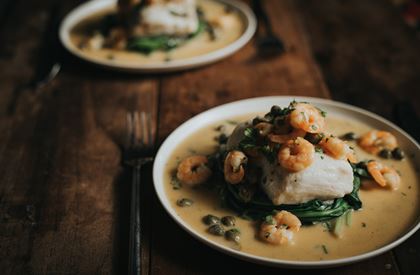 Caught by our boats and MSC approved, our Hake is served with plump prawns and a buttery, caper-filled sauce. This lovely dish is perfect for lunch or a light supper – serve with your favourite veg, some crusty bread or a few handfuls of crisp salad leaves.
Come and see us
Greendale Farm Shop
Sidmouth Road
Nr. Farringdon
Exeter
EX5 2JU
Opening hours
Mon-Sat 8am-10pm | Sun 8am-9pm