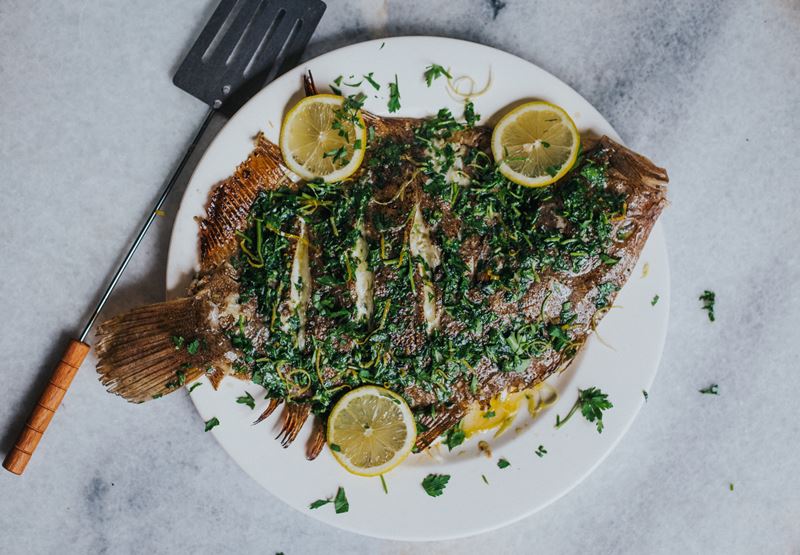 Barbecued Whole Brill with Garlic Butter
Sometimes unfairly overlooked in favour of plaice or turbot, we think brill is – well, brill! With a sweet flavour and firm flesh, it'll cook to perfection in minutes as soon as the BBQ is ready. Serves 2.
Posted by:

John Williams

Posted on: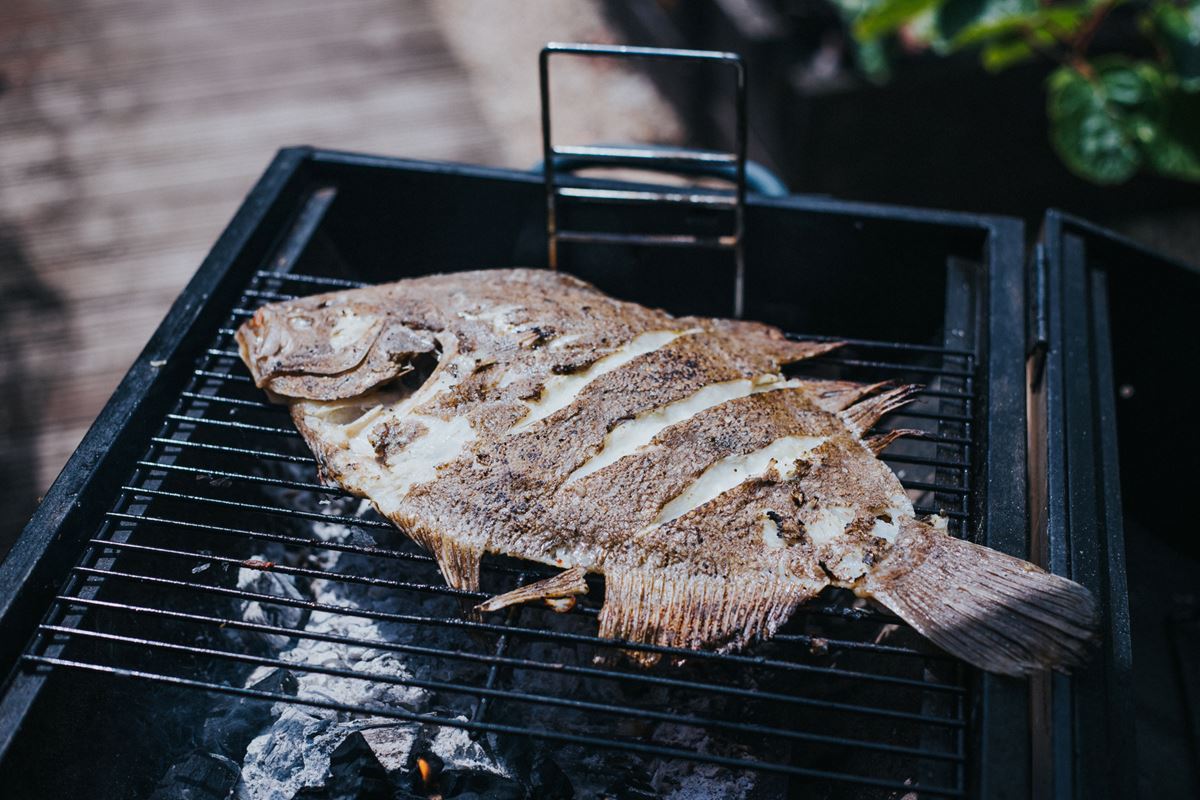 Our boats land their catches most days, and fresh fish can often be on its way to the Greendale within hours of leaving the sea. The fish available may vary from day to day, so if you can't get your hands on Brill, try these delicious alternatives: 
WILD SEA BASS: Responsibly caught wild sea bass has a delicate flavour and deliciously firm but flaky flesh. It's best cooked simply – we absolutely love it cooked over charcoal on the BBQ.
LOCAL MACKEREL: Summer evenings are perfect for laid-back beach barbecues, and fresh mackerel is an ideal candidate, as its rich flesh will stay deliciously moist. Click here for our Simple Whole Barbecued Mackerel recipe.
TROUT: With a similar texture to salmon - but a somewhat milder flavour - trout is great on the grill.
Ingredients
1 x 1kg Greendale Whole Brill, on the bone (supplied gutted and trimmed)
120g Unsalted Butter, softened
25g Flat-Leaf Parsley, washed and chopped finely
1 large clove of Garlic, peeled
Grated zest of half a Lemon
Olive Oil
Salt and freshly-ground Black Pepper, to taste
*You will also need kitchen foil*
Method
First, light the barbecue and get it ready for cooking (if you're using charcoal, our handy guide to getting the best from a charcoal BBQ has some great tips). Next, put the soft butter into a mixing bowl and crush in the garlic clove, then add the lemon zest and a pinch each of salt and pepper. Beat it all together gently until well combined, then set aside. Roughly chop the seaweed, then mix it through the butter. Season well with salt and pepper and set aside. Using a sharp knife, cut three scores in to the top of the brill (don't cut too deep), then rub a little olive oil over both sides of the fish and season it all over with salt and pepper to your taste.
When the barbecue is ready, put the brill on the grill and cook for about 6 minutes, turning regularly, until the skin is nicely charred and the flesh opaque – to check, look at the fleshiest part of the fish, just behind the gills.
Have a large sheet of foil ready (large enough to wrap the fish comfortably). Carefully lift the brill off the grill and on to the foil, then spread it all over with the garlic butter. Pull the foil up to form a parcel round the fish and seal the edges tightly, then put it back on the grill for about 10 minutes or until the flesh flakes easily away from the bone. Serve with your favourite grilled veg – or why not try these easy, tasty potato skewers 
Be inspired…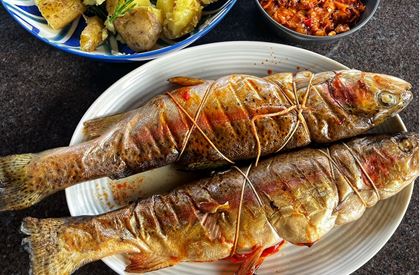 This is a great 'hands-on' sharing dish for a summer's evening – it's a really nice way to cook trout, as the fish takes on subtle smokiness from the charcoal, and the spicy, savoury nduja adds real depth of flavour, too. Serves 2-4.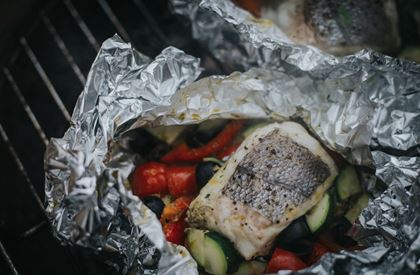 With its firm flesh and mild taste, hake pairs well with robust flavours. Here, it's teamed with pesto, olives and vibrant veg and foil-baked on the barbecue. Delicious!
Come and see us
Greendale Farm Shop
Sidmouth Road
Nr. Farringdon
Exeter
EX5 2JU
Opening hours
Mon-Sat 8am-10pm | Sun 8am-9pm