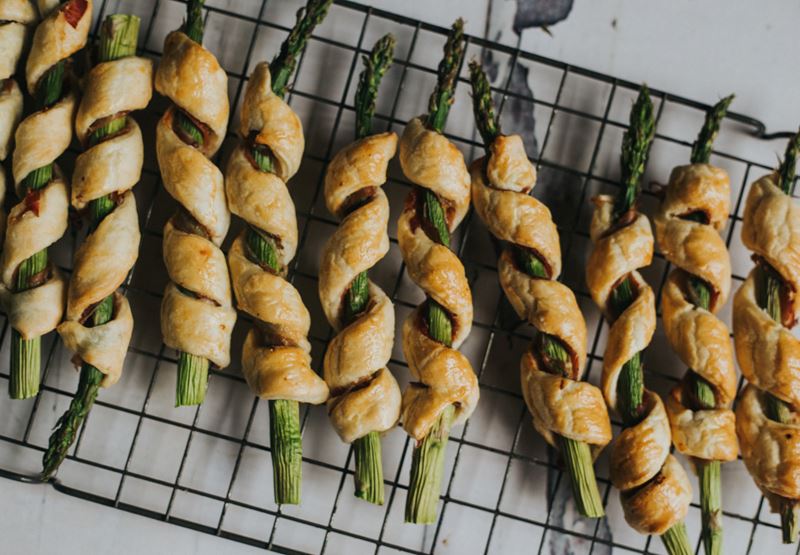 Serrano Asparagus Twists Recipe
Perfect for buffets, finger food or even a spring picnic, these little twists look impressive but are pretty quick to make (and pretty delicious to eat, too!). Makes 40.
Posted by:

John Williams

Posted on:
Method
Snap the woody lower ends from the asparagus spears, and discard (this may not be necessary if they have already been trimmed). Preheat the oven to 200°C (Gas Mark 6). Lightly dust your work surface with flour, then roll the puff pastry out into a 25cm square, or as close to it as you can get. Spread the mustard thinly across the pastry, scatter the grated cheese evenly over the top, then place 3 or 4 slices of the ham on top, covering the cheese.
Lightly oil two large baking sheets with olive oil. Next, take a sharp knife (or a really sharp pizza cutter), and cut the pastry square in half, then cut each half into twenty evenly-sized strips (roughly 12.5cm by 1.25cm each). With the ham facing inwards, wrap each strip around an asparagus spear, so that it is twisted evenly around the stem (you can use a little of the beaten egg to 'glue' the pastry to itself at the ends if it won't stay in place). Put the wrapped spears on the baking sheets - with a little room either side for the pastry to puff up – and brush each of them with a little beaten egg. Cook in the hot oven for 15-20 minutes, or until golden, then lift on to a wire rack to cool slightly before serving.
Come and see us
Greendale Farm Shop
Sidmouth Road
Nr. Farringdon
Exeter
EX5 2JU
Opening hours
Mon-Sat 8am-10pm | Sun 8am-9pm