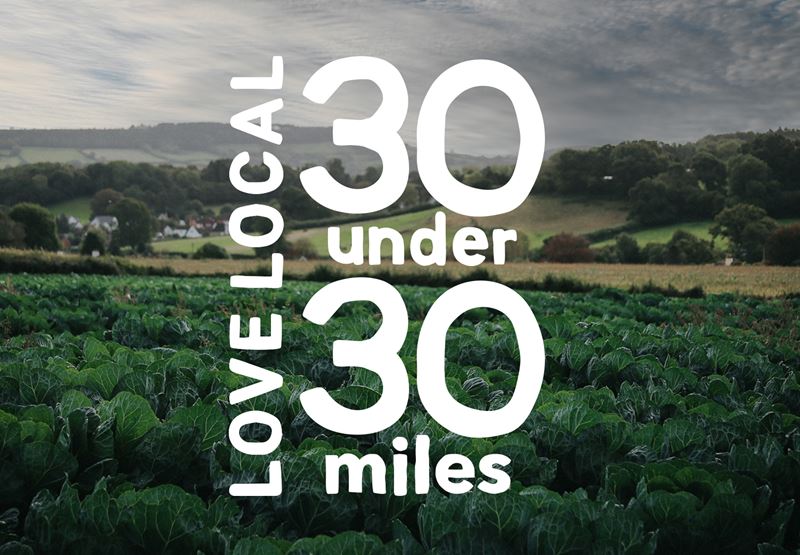 30 under 30 miles
Based in the heart of the East Devon countryside, Greendale Farm Shop is an award-winning family business with generations of farming experience. We take pride in selling meat from our own farmland and fish from our own boats, and we also believe it's incredibly important – now more than ever – to support the superb local growers and producers on our doorstep here in the West Country. To this end, each week we'll be featuring a different small business, all located within 30 miles of our Farm Shop, and all brilliant examples of the wonderful produce available locally. From artisan bakeries, dairies and micro-breweries to jam, preserve and fudge makers, soap producers and candle workshops, this small region has so many passionate and successful businesses. By filling our shop with their exceptional produce, we can offer Greendale customers a great choice, support our local economy and keep food miles to a minimum – it's a 'win-win' as far as we're concerned!
Posted by:

John Williams

Posted on: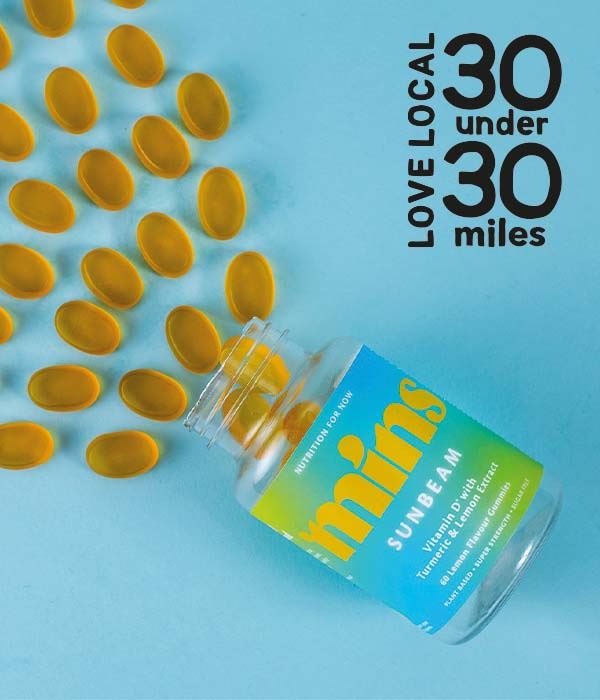 Brand 3: Mins
Based in Sidmouth, less than nine miles from Greendale Farm Shop, Mins was the brainchild of two Sidmouth locals (and old friends), Tom and Polly. Having noticed a gap in the busy UK vitamins market, in 2020 Tom contacted Polly – an established graphic designer – with an idea for a new vitamin brand. Specifically, he wanted to create an approachable, aspirational and attainable offering that was both vegan and sugar-free. Through hours of tweaking, testing and friendly debate, the pair worked together to develop a fun, bright and engaging brand: Mins.
The first Mins product is a chewable, easy-to-take vitamin D supplement, blending plant-based vitamin D2 with turmeric and natural lemon extract. Produced in a UKAS (UK) and NSF (USA) accredited facility, with additional certification for Halal production, SUNBEAM gummies are 100% vegan and allergen-free, made with natural colours and flavouring, and contain no added sugar. Often referred to as 'the sunshine vitamin', vitamin D is produced when skin is exposed to sunlight. It's key to maintaining healthy bones, muscles and teeth, but it can be hard to access; few foods contain vitamin D in large amounts, and winter light levels are often too low to provide a useful amount (not helped by a natural tendency to spend more time indoors at this time of year). Public Health England recently issued a statement advising the use of a daily vitamin D supplement, especially during winter.*
Mins products are supplied in fully recyclable pots (the lids are recyclable, too), and packaged in boxes produced by a carbon-balanced printer partnered with the World Land Trust, an international conservation charity. Mins also works with registered charity, One Feeds Two; every pot of Mins products sold will provide a school meal for a child in poverty.
*https://www.gov.uk/government/publications/vitamin-d-supplementation-during-winter-phe-and-nice-statement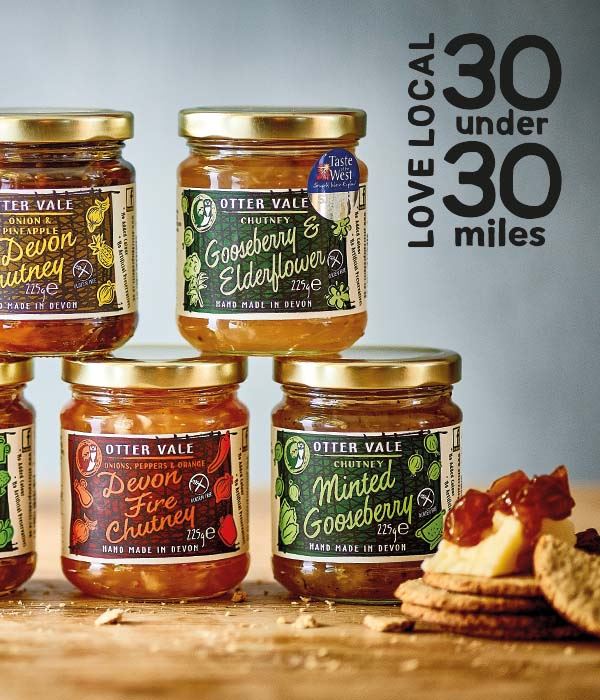 BRAND 2: Otter Vale
Otter Vale chutneys and preserves are deservedly popular with Greendale Farm Shop customers - we've long been fans of these delicious, traditionally-made products. This proudly Devonian business has been part of life for the Laxon family since the 1970s, when Seymour Laxon joined the Budleigh Salterton enterprise that would eventually become Otter Vale. In the mid-1990s, Jon and Christine Laxon took on the business, developing an award-winning product range; their son Ben took over as Managing Director in 2014, overseeing the company's move to new, purpose-built kitchens in Cullompton, mid-Devon (about 15 miles away from Greendale).
Otter Vale takes 'supporting local' seriously; as well as employing local people, the company also sources ingredients and packaging from local producers and suppliers wherever possible (though Devonian pineapple growers have so far proved sadly elusive!). This in turn helps to reduce any environmental impact, another key issue for the business, which is a member of the Grow Green Exeter initiative and remains committed to being as sustainable as possible. Otter Vale is currently focused on reducing unnecessary plastic use in production and packaging; products are sold in recyclable glass jars made by a South-West based company, with cardboard packaging supplied by a local Forest Stewardship Council-certified business.
Otter Vale continues to win awards (most recently, for its Lime, Lemon and Exeter Gin Marmalade, and Marmalade with Ginger and Spiced Rum, both the results of collaborations with local craft specialists Exeter Gin and Two Drifters Rum). They are a proper local success story, and we can't wait to see what they come up with next!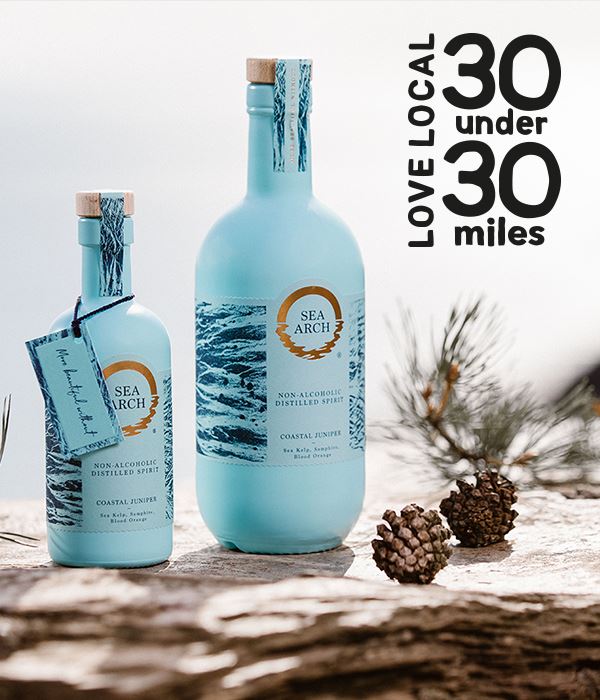 BRAND 1: SEA ARCH DRINKS
Based just 25 miles from Greendale Farm Shop, Sea Arch Drinks was created by Sarah and Geoff Yates. Named after an iconic rock formation found on the couples' favourite stretch of Devon coastline, Sea Arch is a non-alcoholic spirit, made using traditional distillation techniques. It's entirely free from alcohol, sugar and calories, but make no mistake; this is a properly 'grown up' spirit, created with complex natural botanicals, including sea kelp, samphire, cardamom and blood orange, for a clean, sophisticated and delicious taste that's as uplifting as a walk on the beach.
Importantly, Sea Arch production and packaging processes are designed to have the lowest possible environmental impact; all packaging used by the company is plastic-free and recyclable or compostable, and the bottles themselves are decorated with solvent-free paint. This strong sense of responsibility for the environment is also evident in the company's support for The Seahorse Trust, which works to protect the marine environment in Devon and across the UK, as well as worldwide, ensuring that seahorses (and people) can enjoy unspoilt coastal habitats for years to come.
These serious eco-credentials are yet another good reason why we're delighted to stock Sea Arch here at Greendale - you'll find it with the alcoholic spirits at Greendale Farm Shop and on our website.
Come and see us
Greendale Farm Shop
Sidmouth Road
Nr. Farringdon
Exeter
EX5 2JU
Opening hours
Mon 8am-8pm | Tues-Sat 8am-10pm | Sun 9am-7pm