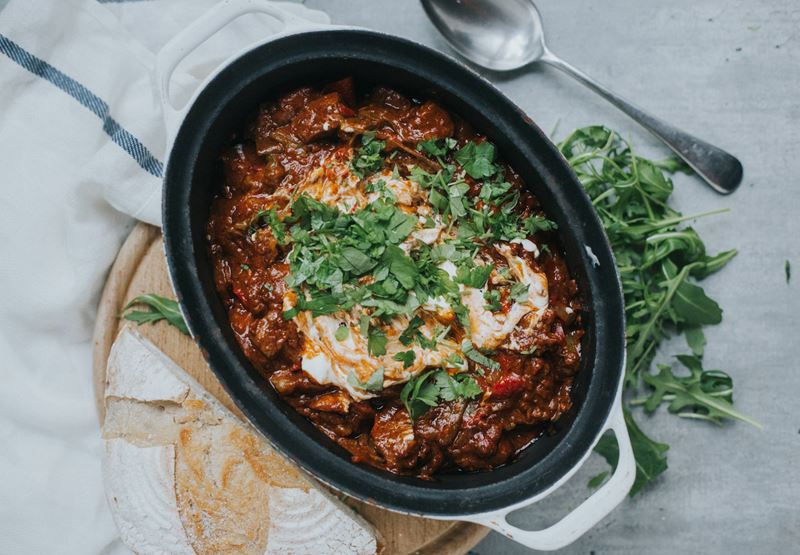 Greendale Beef Goulash Recipe
Flavoured with two types of paprika and packed with plenty of veg, this rich, warming beef stew is inspired by the traditional Hungarian Gulyás. Don't let the list of ingredients or the cooking time put you off – it's well worth the wait, and smells great while it cooks! Serves 4, fairly generously. *Please note: you will need a lidded oven-proof casserole dish for this recipe*
Posted by:

John Williams

Posted on:
Ingredients
2 x 440g Greendale Beef Braising Steaks, cut into evenly-sized chunks
4 tbsp Olive Oil
30g Plain Flour
1 large Brown Onion, peeled, trimmed and sliced thinly
1 tsp Caraway Seeds
3 cloves Garlic, peeled
1 Green Bell Pepper, trimmed, de-seeded and sliced thinly
2 Red Bell Peppers, trimmed, de-seeded and sliced thinly
2 tbsp Tomato Purée
1 tbsp Mild Sweet Paprika
1 tbsp Smoked Paprika
1 x 400g tin Chopped Tomatoes
350ml hot Stock, Beef or Vegetable is fine
Freshly-ground Black Pepper, to taste
Small bunch fresh Flat-leaf Parsley, washed and leaves chopped
150ml Soured Cream (if this is difficult to get hold of, you can substitute plain Greek Yoghurt)
Method
First, pre-heat the oven to 160°C (Gas Mark 3). Put the chunks of beef on a large plate or baking tray, then sprinkle the flour over them, turning the meat to coat each piece as evenly as you can. Next, put one tbsp of the olive oil into your oven-proof casserole dish and heat it over a medium flame on the hob. When the oil is hot, divide the meat into three batches and fry one batch at a time until well-browned all over (add another tablespoon of oil before each batch). Place the browned beef chunks on a clean plate and set them aside to rest.
Next, put the dish back on the hob over a medium flame and heat the remaining tablespoon of oil. Add the caraway seeds and cook, stirring, for a minute or so until the seeds release their fragrance, then add the onion and crush in the garlic cloves. Stir well, then tip in the prepared red and green peppers and mix again to combine. Lower the heat slightly, then cook, stirring every now and then, for about 10 minutes, or until the vegetable have softened and the onion is turning translucent.
When the vegetables are ready, add the browned beef back to the dish, together with the tomato purée and the sweet and smoked paprika. Cook, stirring, for 1-2 minutes, then stir in the tinned tomatoes and slowly pour in the prepared stock. Mix well, add a few grinds of black pepper (you probably won't need any extra salt, thanks to the stock and tomatoes), then put the lid on the dish and put it in the hot oven for about an hour and a half, or until the beef is cooked through and meltingly tender.
To serve, check you are happy with the seasoning, then stir in the sour cream. Ladle into bowls, then sprinkle over the chopped parsley and take to the table straight away.
Be inspired…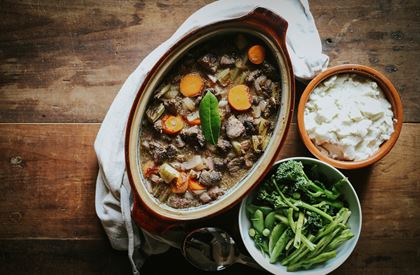 This hearty stew will keep out the cold, with a warming kick from our Proper Scrumpy Cider!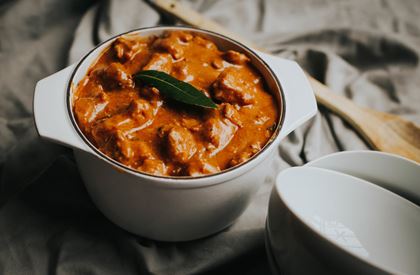 Made with fresh lemon zest and simmered 'low and slow', this simple but delicious recipe produces a mouth-wateringly tender finished dish.
Come and see us
Greendale Farm Shop
Sidmouth Road
Nr. Farringdon
Exeter
EX5 2JU
Opening hours
Mon-Sat 8am-10pm | Sun 8am-9pm