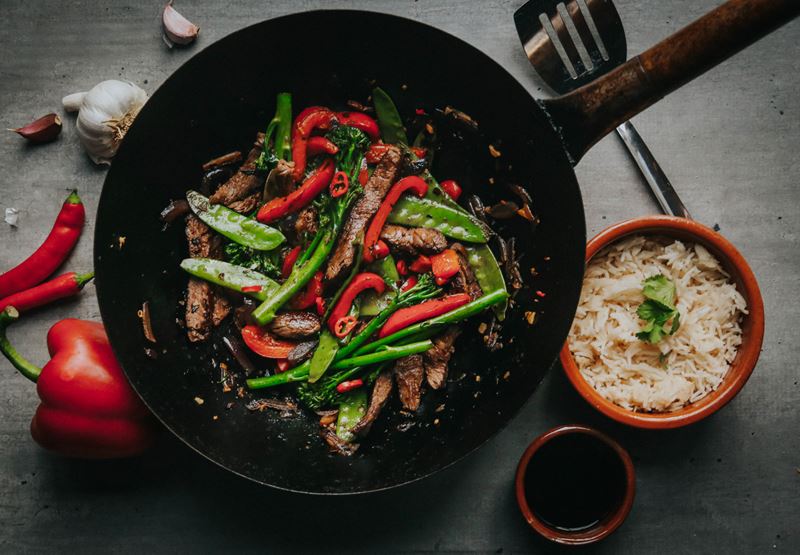 Greendale Beef Stir-Fry Recipe
Sometimes time is short, but that doesn't mean you have to compromise on a healthy, tasty meal. Apart from a bit of chopping and stirring, this recipe is pretty straightforward – it's great to have up your sleeve for those times when you find yourself cooking against the clock. Serves 4.
Posted by:

John Williams

Posted on:
Ingredients
3 x Greendale 220g Beef Sirloin Steaks
150g Purple Sprouting Broccoli, ends trimmed (or regular Broccoli if easier to find – break into smaller florets)
2 tbsp Sunflower Oil
1 Shallot or small Red Onion, peeled and sliced thinly
Thumb-sized piece of fresh Ginger (about 4cm long), peeled and grated
2 large cloves Garlic, peeled and thinly sliced
1 Red Chilli, trimmed and diced finely – if you like heat, keep the seeds
2 Red Peppers, trimmed and sliced into thin strips
200g Mangetout, washed and trimmed
1 tbsp Toasted Sesame Oil
1 tbsp Runny Honey
2 tsp Soy Sauce or Tamari
1 Lime, zest and juice of
Small bunch fresh Coriander, rinsed – separate the stems from the leaves, and chop both finely
Rice or noodles, to serve.
Method
*If you are making rice to serve with your stir-fry, start cooking it before you make the stir-fry or it won't be ready when you need it. Noodles usually only require a few minutes' cooking time, and can be cooked while you complete the last steps of the recipe.*

First, trim any excess fat from the sirloin steaks, then cut the meat across the grain into long, very thin strips. Bring a pan of water to the boil, then drop the broccoli into it and blanch for two minutes, before draining and rinsing under the cold tap to refresh. Next, place a couple of sheets of kitchen roll on a large plate, then put one tablespoon of the oil into a wok or frying pan and place it over a high heat. As soon as the oil is hot, add the beef strips and fry for 1-2 minutes (keep the beef moving around the pan) until just cooked and no longer pink. Lift the beef strips out on to the plate with the kitchen paper, then put the remaining tablespoon of oil into the hot pan and add the shallot and the chopped coriander stems. Stir together, then quickly throw in the prepared ginger, chilli and garlic, and stir-fry for 2-3 minutes. Add the broccoli, pepper and mangetout, and cook for another two minutes, keeping everything moving to prevent burning. Finally, put the sesame oil, honey, soy sauce, lime zest and juice into the pan and stir to mix, then return the beef strips to the pan and toss everything together. To serve, divide between four bowls (together with your rice or noodles, if using) and scatter with the coriander leaves before taking to the table.
Be inspired…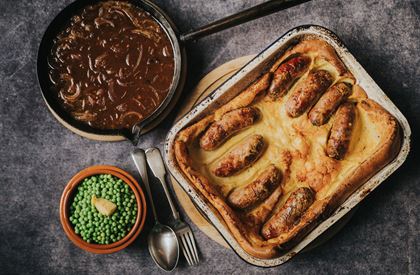 We're not sure how Toad in the Hole came by its unusual name, but whatever its origins, this satisfying dish is a true comfort-food favourite. In this recipe, we've used our hand-made Pork & Apple Sausages and a quick red onion gravy to serve on the side – just add your favourite greens.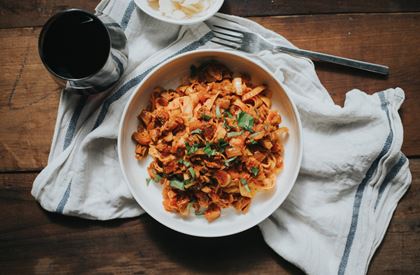 This rich, slightly spicy sauce is a great way to make a satisfying family meal from leftover roast lamb – best of all, it can be ready and on the table in about half an hour.
Come and see us
Greendale Farm Shop
Sidmouth Road
Nr. Farringdon
Exeter
EX5 2JU
Opening hours
Mon-Sat 8am-9pm | Sun 9am-8pm