Pork & Lemon Casserole
Made with fresh lemon zest and simmered 'low and slow', this simple but delicious recipe produces a mouth-wateringly tender finished dish. Serves 4.
Posted by:

John Williams

Posted on:
Method
Put the flour and paprika into a large food bag and add ½ a teaspoon of salt and a few grinds of the pepper mill. Hold the bag closed and shake it to combine the contents, then add the diced pork to the bag and toss until well coated in the flour mixture. Next, put a large casserole or saucepan (one with a lid) over a medium heat and add the olive oil. Put the pork into the pan and cook, turning regularly, until browned on all sides. Add the thyme, bay leaves and garlic and cook for a further minute, then carefully pour in the wine and bring up to the boil, using a wooden spoon to scrape the bottom of the casserole. Lower the heat so that the pan drops to a simmer, then stir in the lemon zest. Put the lid on the pan and reduce to a low heat, leaving it to simmer for an hour (check regularly that the sauce is not becoming too thick – if it does, loosen it with a little hot water). When the pork is cooked through and tender, check the seasoning and adjust if necessary, then stir in the lemon juice and serve with mash, rice or crusty bread for mopping up the juices.
Be inspired…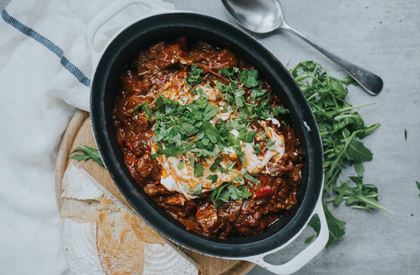 Flavoured with two types of paprika and packed with plenty of veg, this rich, warming beef stew is inspired by the traditional Hungarian Gulyás. Don't let the list of ingredients or the cooking time put you off – it's well worth the wait, and smells great while it cooks!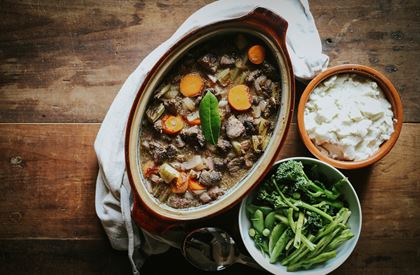 This hearty stew will keep out the cold, with a warming kick from our Proper Scrumpy Cider!
Come and see us
Greendale Farm Shop
Sidmouth Road
Nr. Farringdon
Exeter
EX5 2JU
Opening hours
Mon-Sat 8am-10pm | Sun 8am-9pm