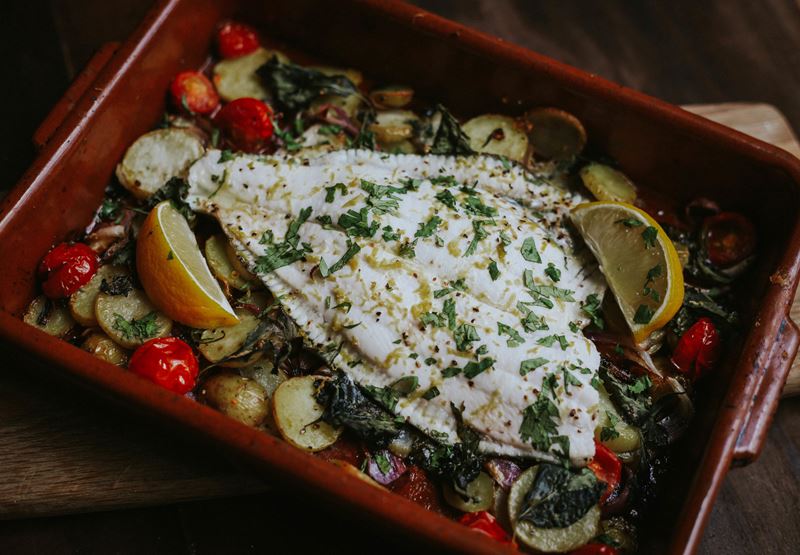 Roast Plaice Fillets with Lemony Veg Recipe
This is a delicious and healthy way to enjoy our locally-caught Plaice, and it's a versatile recipe, too; it will work just as well with any flat white fish, and the quantities can be scaled up or down pretty easily. Best of all, it's made with just one baking tray and one pan, so washing-up is kept to a minimum! Serves 2.
Posted by:

John Williams

Posted on:
Method
Preheat the oven to 200°C (Gas Mark 6). Cut the potatoes into slices roughly the thickness of a £1 coin, then put them into a large roasting tin and toss with 1 tbsp of the oil. Scatter over a good pinch of sea salt and grind over a few turns of the pepper mill, then put in the hot oven and roast for 15 minutes or until golden (you may need to turn them once or twice). While the potatoes are cooking, cut the onions into slender wedges. Trim the fronds, base and any tough outer skin from the fennel, then slice it as thinly as you can - a mandolin is helpful here. Cut the tomatoes in half and set aside. Next, put 1/2 tbsp of the oil in a shallow pan over a medium heat. Add the onion wedges, lower the heat slightly and cook gently for 5 minutes, or until the onion has softened. Add the sliced fennel and crush in the garlic, then season with sea salt and pepper and cook for a further 2-3 minutes.
When the potatoes have had their time in the oven, take the roasting tray out. Tip the cooked fennel-and-onion mixture over the potatoes, then scatter over the prepared tomatoes and return the tray to the oven for 5 minutes. Next, take the tray out again and rip the basil leaves over the vegetables, then put the plaice fillets, skin-side down, on top. Grate over the zest of the lemon, then cut the lemon in half and squeeze over the juice of one of the halves. Drizzle with the rest of the oil, and season with a little more salt and pepper. Return to the oven for 8 minutes, or until the fish is cooked through. Chop the parsley leaves and scatter them over the cooked fish and veg, then serve straight away with the remaining lemon half cut into wedges.
Come and see us
Greendale Farm Shop
Sidmouth Road
Nr. Farringdon
Exeter
EX5 2JU
Opening hours
Mon-Sat 8am-10pm | Sun 8am-9pm