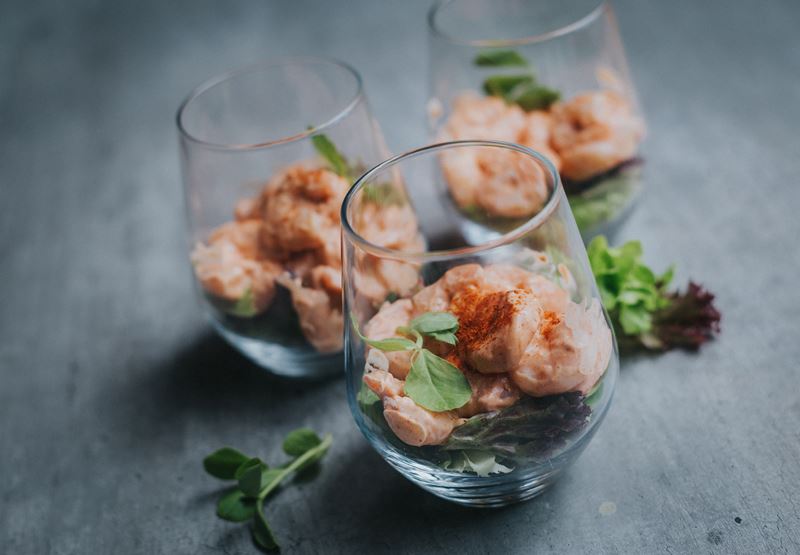 Prawn Cocktail Recipe
After falling out of fashion for several years, this classic starter is finding favour once more, and for good reason; luscious prawns sit atop crisp lettuce, drizzled with a delicious piquant dressing. Definitely an oldie-but-goodie! Serves 2.
Posted by:

John Williams

Posted on:
Method
First, decide on your serving dishes – for a fun retro look, use short-stemmed glass sundae dishes or coupé glasses. Next, cut the lettuce leaves from the stalk and wash them in very cold water (to help keep them crisp), then shake off the water and pat dry on kitchen paper. Choose the nicest-looking leaves and lay two or three of them in the bottom of each serving glass, then shred the rest of the leaves finely and divide them equally between the two glasses.
To make the sauce, put all the ingredients except the salt and pepper into a large jug or bowl and mix them together until well combined. Taste, then season to taste with salt and pepper. Put the prawns into a mixing bowl, add a good drizzle of sauce and stir them together gently until the prawns are well coated. Put any spare sauce into a small serving bowl. Divide the prawns equally between the two glasses, then top with a small pinch of the cayenne pepper (if you prefer less heat, you can use sweet paprika here instead). Take to the table with the lemon wedges for squeezing over, together with the spare sauce.
Come and see us
Greendale Farm Shop
Sidmouth Road
Nr. Farringdon
Exeter
EX5 2JU
Opening hours
Mon-Sun 7am-10pm