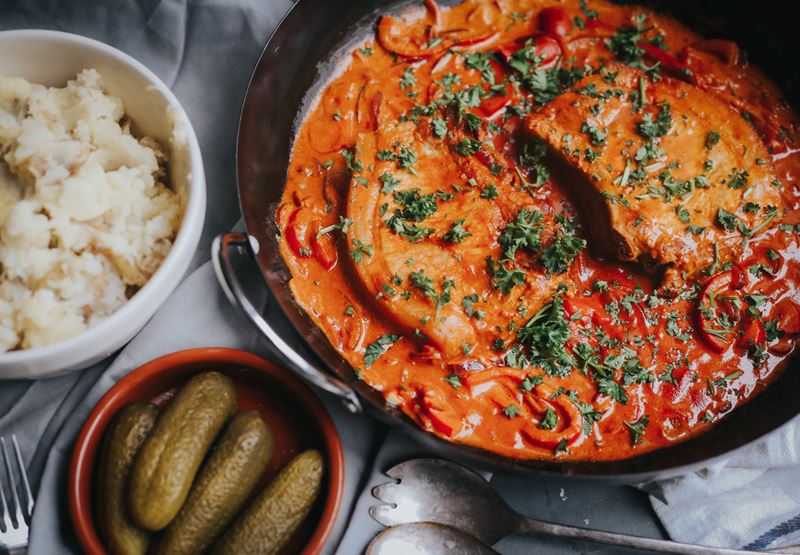 Paprika Pork with Red Peppers Recipe
Rustle up a quick, tasty weeknight meal with this easy pork recipe. Don't be put off by the amount of paprika used - the delicious smoky flavour marries perfectly with the rich meat and sweet peppers. Serves 4.
Posted by:

John Williams

Posted on:
Method
Place a large frying pan over a medium heat and add one tablespoon of oil. As soon as the oil is hot, add the pork chops to the pan and cook them for a couple of minutes on each side until just golden brown. Put the chops on a plate and set aside, keeping the pan on the heat.
Next, add the prepared onion, peppers and garlic to the pan and lower the heat, cooking the vegetables gently for about 10 minutes, stirring occasionally, until the onions are soft and translucent.
Stir the tomato purée into the cooked vegetables, then pour in the stock and mix everything gently to combine. Put the chops back into the pan and bring it up to a simmer. Cook for five minutes or so, until the liquid has reduced and thickened slightly, then lower the heat slightly and add the yoghurt or crème fraiche. Heat through for a couple more minutes, then stir in the chopped parsley and serve while still piping hot – basmati rice or mashed potatoes make great accompaniments.
Come and see us
Greendale Farm Shop
Sidmouth Road
Nr. Farringdon
Exeter
EX5 2JU
Opening hours
Mon-Sun 7am-11pm