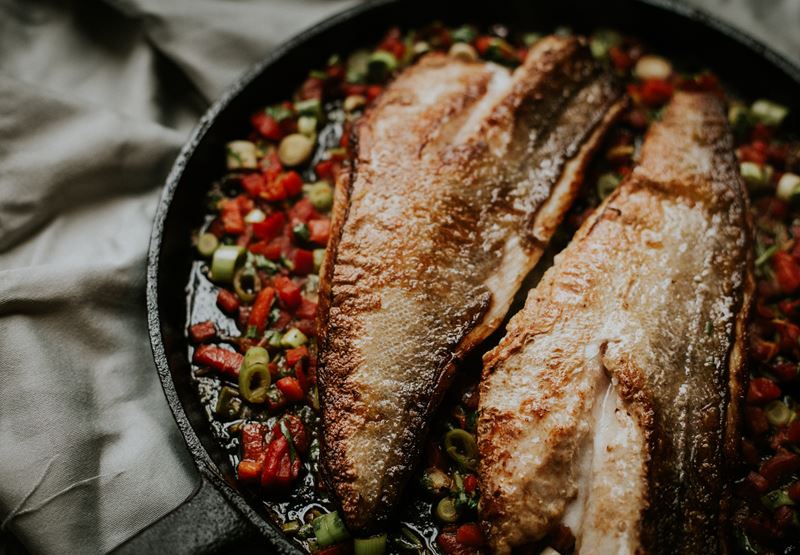 Gurnard with Roasted Red Pepper Relish
Greendale Red Gurnard comes from South West waters; this distinctive (and delicious) fish is also very popular in the Mediterranean, and its firm white flesh pairs really well with 'sunshine' flavours, like the red peppers in this recipe. Apart from a bit of chopping, this is a quick and easy recipe to follow, with impressive results – serve with lemon wedges and some salad leaves. Serves 2.
Posted by:

John Williams

Posted on:
Ingredients
For the salsa:
3 Spring Onions, trimmed and thinly sliced
2 large Red Peppers from a jar of roasted red peppers in oil, finely chopped, plus about 1 tsbp of the oil from the jar
A small bunch of fresh Coriander, washed, leaves only, finely chopped
Soy Sauce
1 Lemon, zested to give about 1 tsp zest, then juiced (you will need half of the juice for the fish)
For the fish:
2 Greendale Gurnard Fillets
50g Unsalted Butter
Light Olive Oil
Lemon juice (see above)
Sea Salt and freshly ground Black Pepper, to taste
Method
First, make the salsa by mixing together the onions, red peppers, coriander, lemon zest and half of the lemon juice. Add a dash of soy sauce, then spoon in just enough oil from the jar of roast peppers to give all the ingredients a light coating (about a tablespoon). Stir well, then set aside while you cook the fish.
Place a large, shallow pan over a medium heat. Add the butter and about a teaspoon of oil and allow to heat until the butter is just melting. Put the gurnard fillets into the pan and cook for a couple of minutes, then carefully turn the fish over. Sprinkle the fillets with a pinch of salt and a good few grinds of black pepper, then squeeze over the remaining juice from the lemon. Cook for a further 2-3 minutes, then remove from the pan and leave to rest on a warmed plate; keep the pan on the heat and tip in the prepared salsa, stirring it into the pan-juices from the fish. As soon as the salsa has warmed through (2-3 minutes), divide it equally between two plates and sit a fish fillet on top of each. Serve immediately.
Be inspired…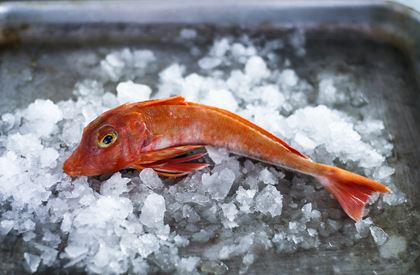 Delicious Gurnard has long been popular in Mediterranean countries, but here in the UK we've taken a little longer to catch on! As well as being a more sustainable alternative to catches like Cod or Haddock, Gurnard is also now gaining recognition for its superior taste and succulent flesh. It works beautifully in simple recipes that allow its flavour to really shine – this easy foil-baking method does just that. Feel free to adapt the ingredients to include the herbs and flavourings you prefer (or have available). Serves 2.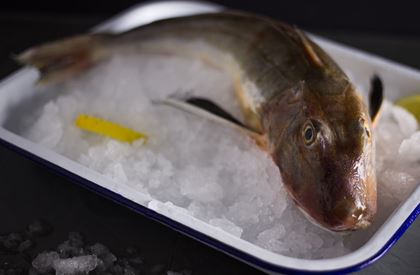 Once underrated, Gurnard is fast gaining in popularity as word spreads about its firm white flesh and great flavour. Recognised as a more sustainable choice of fish, it's also great value, easy to cook and really versatile.
Come and see us
Greendale Farm Shop
Sidmouth Road
Nr. Farringdon
Exeter
EX5 2JU
Opening hours
Mon-Sat 8am-10pm | Sun 8am-9pm