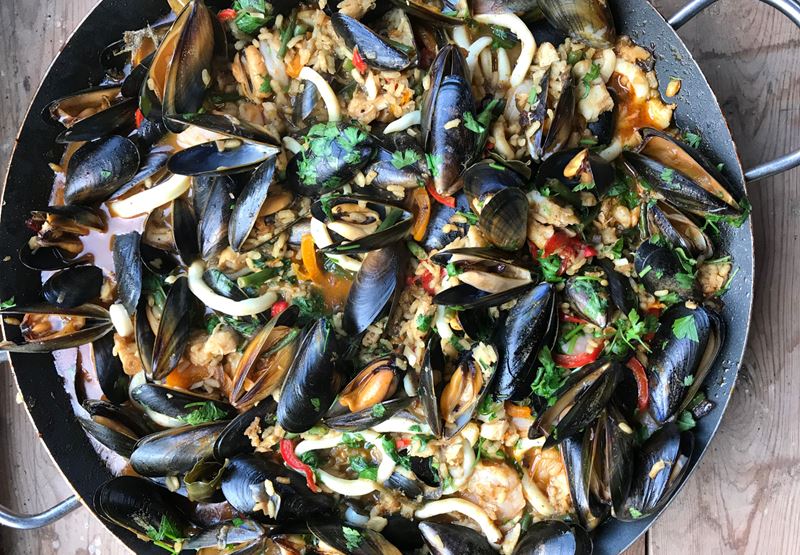 Seafood Paella Recipe
At Greendale we love our fresh fish, so we've re-interpreted the traditional Paella recipe in order to cram in as much delicious seafood as possible! If you don't have a Paella Pan you can use a very wide, shallow saucepan or sauté pan, or a large, flame-proof casserole dish.
Serves 4-6 (appetite-depending!).
Posted by:

John Williams

Posted on:
Ingredients
2 tbsp Olive Oil
2 x Greendale 200g Hake Loin, each cut into three evenly-sized pieces
75g Picante Chorizo, skin removed and cut into 0.5cm slices
2 Red Onions, peeled and thinly sliced
2 Red Peppers, trimmed, de-seeded and finely sliced
1 Yellow Pepper, trimmed, de-seeded and finely sliced
150g Green Beans, trimmed and cut into short, even lengths
4 Garlic Cloves, peeled and finely sliced
3 tsp Sweet Smoked Paprika
1 Saffron threads
2 Bay Leaves
175g Medium-Grain Rice
1 litre hot Stock (chicken, fish or vegetable - a stock cube is fine)
500g live Exmouth Mussels or Teignmouth Mussels, well scrubbed and beards removed
1 x Greendale Fresh Squid (supplied cleaned and ready to cook), sliced into rings
200g Greendale Raw Peeled King Prawns
Small bunch fresh Flat-Leaf Parsley, chopped (leaves only)
Sea Salt
Freshly ground Black Pepper
Lemon Wedges, to serve
Method
Place your pan over a medium heat (the pan needs to be at least 38cm wide – see note above), add the olive oil and heat for a few moments. Place the pieces of hake loin in the pan and fry them for about 3-4 minutes per side, until they have gained a bit of colour. Add the chorizo slices and cook for another 30 seconds or so, flipping them over to prevent them burning, then use a slotted spoon to lift the fish and chorizo out of the pan and into a dish, setting it aside to keep warm.
Using the oil in the same pan, cook the onions gently for 5-10 minutes until softened and translucent, with a little colour. Add the sliced peppers and green beans to the pan and cook for four minutes, or until they are beginning to soften, then stir in the garlic, smoked paprika, saffron, bay leaves and rice. Mix well and and cook for two minutes, until the rice is glistening all over.
Return the hake and chorizo to the rice pan, along with any juices. Stir gently to combine, then pour in the hot stock and add a good grinding of black pepper. Stir again briefly, then bring the pan up to a simmer over a medium heat and cook for about 10 minutes, stirring from time to time. Next, add the mussels to the rice mixture, folding everything together carefully so that the mussels are nestled into the hot rice and liquid. Bring the pan back up to a simmer and cook for about three minutes, stirring occasionally, until most of the mussels have opened (discard any that are still closed at the end of the cooking time).
Add the squid, prawns and parsley to the pan and stir them in (this will be the last time during cooking that you will need to stir; leaving the rice to cook allows it to become lightly browned and a little bit sticky around the edges of the pan, which all adds to the flavour of the finished dish). Continue cooking for about five minutes, until the squid and prawns are cooked, the rice is tender and almost all of the liquid has been absorbed. As you are not stirring, keep the heat fairly gentle during this time to avoid burning the rice – you can always add a bit more water if the paella begins to look dry before the rice is ready. Serve hot, with plenty of lemon wedges.
Come and see us
Greendale Farm Shop
Sidmouth Road
Nr. Farringdon
Exeter
EX5 2JU
Opening hours
Mon-Sat 8am-8pm Sunday 9am-6pm