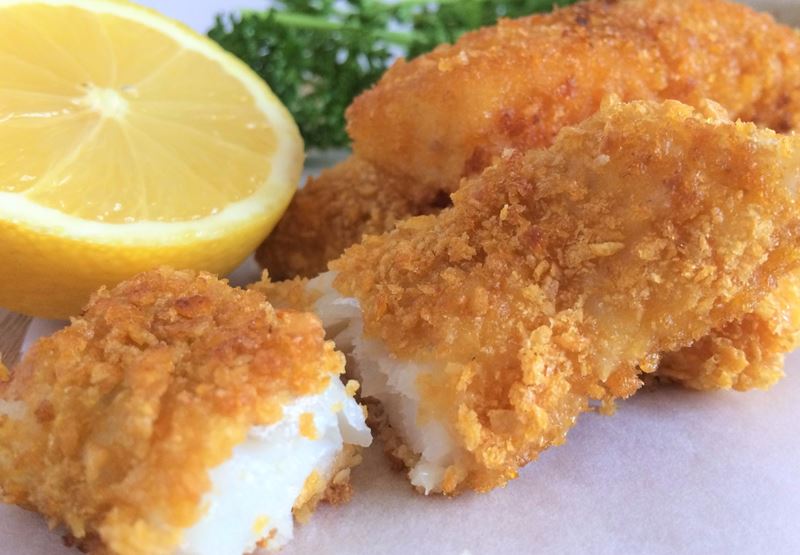 Home-Made Fish Fingers
Instead of opening a packet, why not have a go at making these delicious fish fingers? They're healthy, tasty and quick to make, and also happen to be gluten-free.
Posted by:

John Williams

Posted on:
Method
First, crush the cornflakes; place two double handfuls of flakes into a food processor and blitz into fine crumbs, or put the cornflakes into a poly bag and crush them with a rolling pin. Tip the crumbs on to a large plate and set aside. Beat the egg and pour it into a wide, shallow dish. Cut the fish fillets into evenly sized fingers (the chunkier they are, the easier they'll be to handle) and check each strip carefully for bones. Add a glug of oil or knob of butter to a frying pan and heat it gently while you start making the fingers.
A few at a time, gently dip the fish fingers in the egg, turning them to coat evenly, then put the eggy fish into the cornflake crumbs. Again, turn them to get an even coating (you may find it easier to just sit them on the crumbs and toss more crumbs over them). Add the fingers to the hot frying pan and cook, turning regularly until each side becomes golden and crisp and the fish is white, flaky and thoroughly cooked through.
Come and see us
Greendale Farm Shop
Sidmouth Road
Nr. Farringdon
Exeter
EX5 2JU
Opening hours
Mon-Sat 8am-10pm | Sun 8am-9pm