Pre-order for Christmas
Out of stock
Product description
Quickes make so many delicious cheeses that it can be hard to choose just one! Happily, you don't have to, as this selection box contains three delicious samples of their handmade, naturally matured cheeses for you to try. Contents: 200g Quickes Double Devonshire Cheese; 200g Quickes Extra Mature Cheddar Cheese; and 200g Quickes Oak-Smoked Goats Cheese.
*PLEASE NOTE* This seasonal item is only available to pre-order for collection or delivery between 01/12/2022 to 24/12/2022 (exclusions apply)
Be inspired…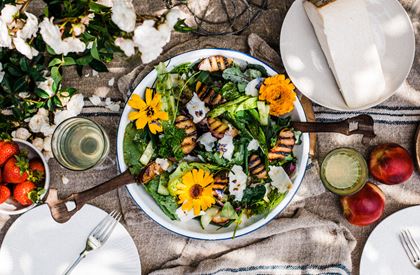 This salad is the perfect combination of warm and sweet nectarine, crunchy bitter leaves, fragrant flowers and creamy lemony Quicke's Goat's Milk Clothbound Cheese, drizzled with a Classic House Dressing. Pair with a loaf of bread and some white wine to wash it down with.
Come and see us
Greendale Farm Shop
Sidmouth Road
Nr. Farringdon
Exeter
EX5 2JU
Opening hours
Mon-Sat 8am-10pm | Sun 9am-10pm