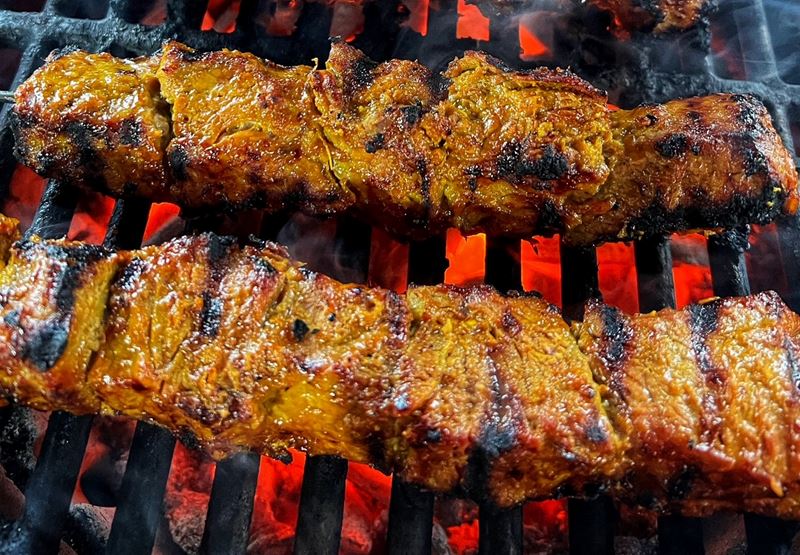 No Smoke Without Fire Beef Skewers
There's a little bit of work involved with this recipe, though most of the time needed is for marinating the beef (allow at least 6 hours, and preferably 24 hours if you can). Rich in flavour, the end result is well worth the wait! Serves 2-4?
Posted by:

John Williams

Posted on: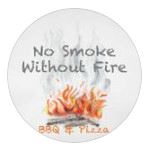 For us, the BBQ is an essential part of summer – we love finding new ways to make the most of fresh meat, fish and veg on the grill! With this in mind, we asked local BBQ legend Si Gill (find him on @nosmokewithoutfire_bbqnpizza) to create some BBQ recipe suggestions for us to try, and the results are delicious. We loved the nduja-stuffed whole trout, were intrigued by the brilliant guacamole recipe tip and will be adding the delicious marinade Si uses for his Cambodian Beef Skewers to our BBQ marinade repertoire!
Ingredients
6 stalks of Lemongrass, tough outer layers and root discarded, stalks finely chopped
8 large cloves of Garlic, peeled and crushed
A thumb-sized piece of fresh ginger, peeled and roughly chopped
2 tsps ground Turmeric
118ml Sunflower or Vegetable Oil
60ml Oyster Sauce
1 tbsp Fish Sauce
1 tbsp Brown Sugar
1kg Greendale Sirloin Steak, cut against the grain into thin, bite-size pieces, fat trimmed away
To serve (optional); Jasmine Rice, finely sliced Spring Onions
Method
Add the lemongrass, garlic, ginger, turmeric and oil to a food blender and blitz briefly, so it retains some texture and is still a little coarse. Tip this mixture into a large, shallow dish, then stir in the remaining ingredients (apart from the steak). Next, add the steak pieces to the dish and gently stir everything to ensure the meat is covered in the marinade, then cover the dish and refrigerate for a minimum of 6 hours (and preferably 24 hours).
30 minutes before you're ready to cook, remove the steak dish from fridge and push the meat on to skewers, then let them come up to room temperature (if using wooden skewers, don't forget to soak them for a couple of hours beforehand). If you are serving with rice, now is a good time to cook it, drain it and leave to keep warm in a serving dish. Place the skewers on the grill over prepared hot coals or a hot gas BBQ (first ensuring the grill is hot enough to sear the meat) and cook for 3-4 minutes until the meat starts to take on a nice, caramelised texture. Keep turning the skewers every 3-4 minutes, and check the meat is thoroughly cooked through (any juices should run clear). To serve, plate up each skewer, stir the finely sliced spring onions through the cooked jasmine rice and take everything to the table.
Come and see us
Greendale Farm Shop
Sidmouth Road
Nr. Farringdon
Exeter
EX5 2JU
Opening hours
Mon-Sat 8am-10pm | Sun 8am-9pm