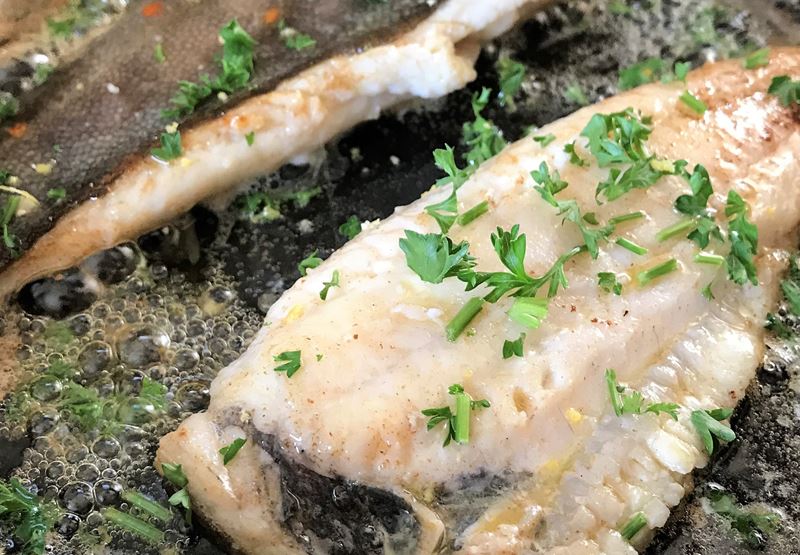 Pan-Fried Flatfish Fillets
More of a guide than a recipe, this is a quick, easy and delicious way to cook flatfish fillets. It works well with Plaice, Turbot, Sole and Brill (and in fact most flatfish fillets, because their thin, slender shape ensures they will cook through completely despite the brief cooking time). Feel free to tweak the method and add in your favourite herbs or other ingredients - lemon zest and capers are good.
Posted by:

John Williams

Posted on:
Ingredients
1 or 2 Flatfish Fillets per person (depending on size of fillets and appetite) – Greendale fishmongers will fillet any fish for you, just ask at the fish counter or choose from our selection online.
25g Butter per fillet
Method
Place a large, shallow pan and melt the butter over a low-medium heat. When the butter is melted, put the fillets into the pan, gently swiping them in the butter on each side and then leaving them skin-side down to cook for about two minutes (the time will vary depending on the size of the fillets). Carefully turn the fillets over and cook for a further two minutes or so, then lift out of the pan and on to plates and serve with salad leaves or some steamed veg.
Come and see us
Greendale Farm Shop
Sidmouth Road
Nr. Farringdon
Exeter
EX5 2JU
Opening hours
Mon-Sun 7am-10pm