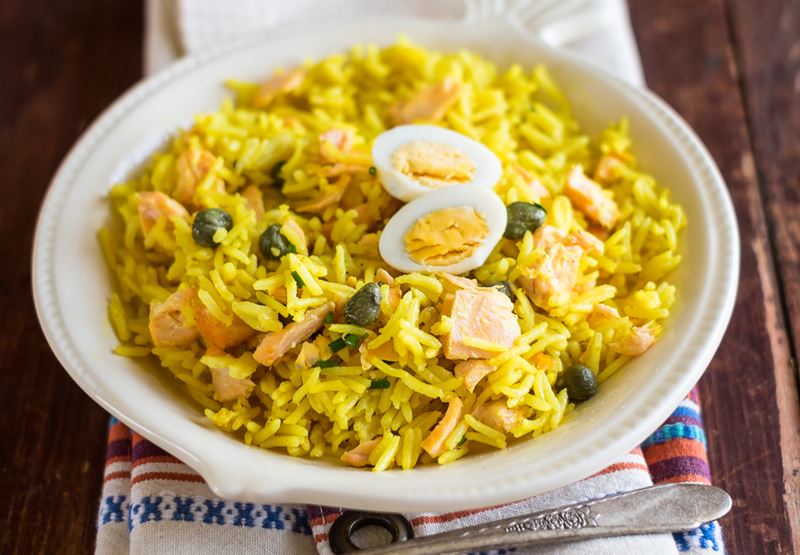 Greendale Kedgeree
This delicious spiced fish dish makes a perfect brunch or dinner with friends. It's a great showcase for tasty smoked haddock, though other smoked fish (such as hake) can be used equally successfully. Serves 6.
Posted by:

John Williams

Posted on:
Method
Place the smoked haddock in a large, shallow pan and pour over 500ml water, then add the bay leaf and bring the water up to a gentle simmer. Cook for about 10 minutes, until the fish flakes easily, then drain carefully through a colander, reserving the cooking liquid. Discard the bay leaf. 
Next, put the rice into a large saucepan, then pour over the cooking liquid from the fish. Put a lid on the pan and bring it to the boil, then reduce it to a low simmer and let the rice cook gently for ten minutes. Take the pan off the heat (leaving the lid on) and let the rice sit for a further five minutes, or until all the liquid has been absorbed.
While you're waiting for the rice, bring a medium pan of water up to the boil, then add the eggs. Cook for nine minutes, then drain and leave to cool.
In a large pan, melt the butter together with the oil over a low heat, then add the onion and cook gently for 5-10 minutes, until softened. Stir in the curry powder and Garam Masala and cook for another couple of minutes, continuing to stir. Tip the cooked rice into the pan and mix well with the onions, then stir in the cream, parsley and black pepper to taste. Using a fork, gently break the fish into chunky flakes and add these to the pan. Add the lemon juice and cook for two minutes. Peel the cooked eggs, cut them into quarters and place them on top of the rice. Put the lid on the pan and heat through to warm the eggs, then serve.
Be inspired…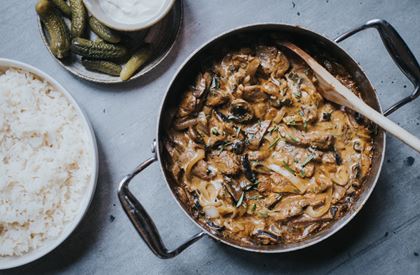 Savoury and sustaining, this creamy pork dish is so much more than the sum of its parts. It's a pretty quick recipe, too, making it ideal to keep up your sleeve for those days when time is tight but you don't want to compromise on quality.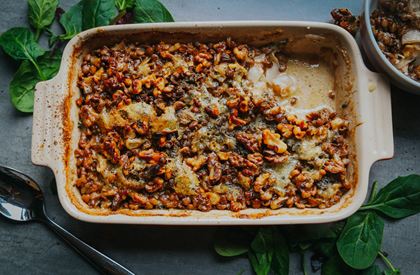 Celeriac may not be the prettiest of vegetables, but give it a chance and you will be pleasantly surprised. It has a nutty flavour, akin to that of celery, and complements the blue cheese and walnuts in this creamy gratin perfectly.
Come and see us
Greendale Farm Shop
Sidmouth Road
Nr. Farringdon
Exeter
EX5 2JU
Opening hours
Mon-Sat 8am-11pm | Sun 9am-7pm