Whole Loch Duart Salmon - Cleaned (Not Scaled)
Product description
This whole salmon is supplied by the wonderful Loch Duart Salmon Farm in Scotland. Cleaned, gutted but not scaled, ideal for our whole salt-baked salmon recipe.
*PLEASE NOTE* This seasonal item is only available to pre-order for collection or delivery between 01/12/2021 to 31/12/2021 (exclusions apply)
Be inspired…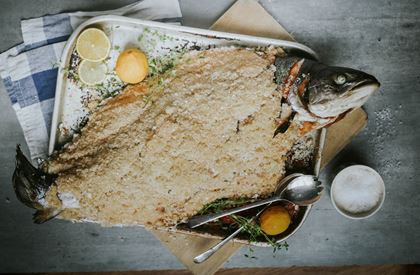 Serve up incredibly moist, flavoursome (but not salty!) salmon with this surprisingly straightforward show-stopper of a recipe. When you buy your fish, ask our fishmongers to clean and gut it for you and remove the head, but leave the scales on – otherwise the salt will penetrate into the fish.
Come and see us
Greendale Farm Shop
Sidmouth Road
Nr. Farringdon
Exeter
EX5 2JU
Opening hours
Mon 8am-8pm | Tues-Sat 8am-10pm | Sun 9am-7pm