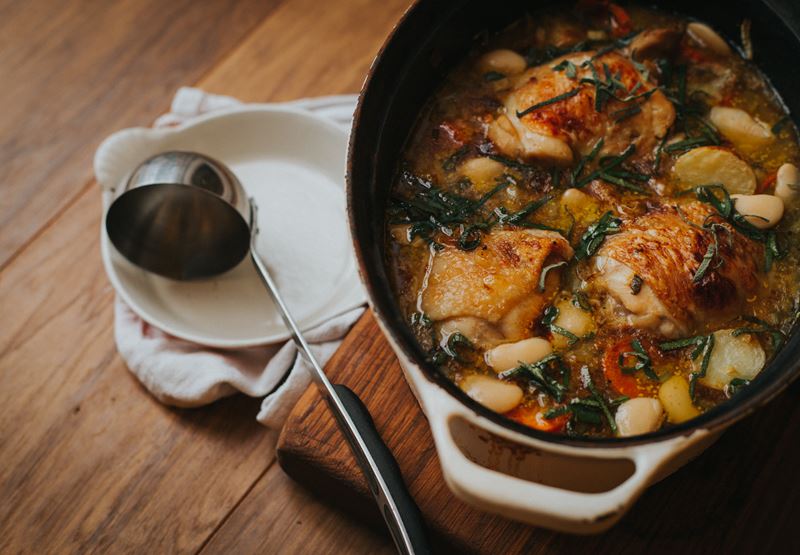 Chicken and Butterbean Stew
Savoury and satisfying, this light chicken stew is high in protein and full of tasty veg. Relatively quick to make, it's great for a simple midweek meal – you can have it on the table in about half an hour. Serves 4.
Posted by:

John Williams

Posted on:
Ingredients
1 tbsp Rapeseed Oil
1 Onion, peeled, trimmed and diced
3 cloves of Garlic, peeled and finely sliced
8 Greendale Skinless Chicken Thighs, or 8 Greendale Chicken Thighs , removed from the bone and cut into even, bite-sized pieces
3 medium sticks of Celery, washed, trimmed and finely sliced
3 medium Carrots, scrubbed, trimmed and sliced into 'coins' about 0.5cm thick
300g small Potatoes, scrubbed and cut into halves (quarter any larger ones)
1 tin Butterbeans (or other white beans), drained and rinsed
1 small bunch fresh Tarragon, washed, leaves picked and finely chopped
700ml Chicken or Vegetable Stock
2 level tbsp Plain White Flour
1 level tbsp Wholegrain Mustard
1 Star Anise
½ tsp Cinnamon
Sea Salt and freshly ground Black Pepper, to taste
Method
Pour the stock into a saucepan and bring it up to the boil. While you are waiting for this to happen, place a large, deep pan (for which you have a lid) over a medium heat and pour in the oil, then add the onion, garlic and chicken and cook for 2–3 minutes, stirring to ensure nothing sticks to the bottom of the pan.
Next, sprinkle the flour into the pan with the chicken, give it a quick stir to combine, then gradually add the hot stock, mixing well. Stir in the prepared vegetables and the mustard, star anise and cinnamon, then bring the pan up to the boil. Cover the pan, then reduce the heat to medium and cook for 15 minutes; when this time is up, take the lid off the pan and increase the heat again, cooking for a further five minutes, so that the chicken is cooked through and the veg are tender.
Tip in the beans and check the seasoning, adding salt and pepper to taste. Cook for a couple of minutes to ensure the beans are warmed through, then serve straight away.
Be inspired…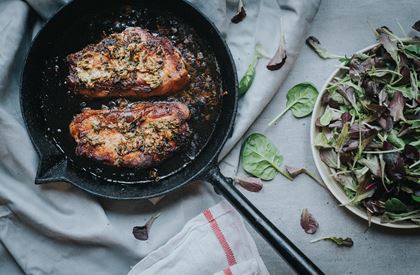 Lean and tender, the pork loin pairs beautifully with the aromatic herbs - serve with a simple green salad and some baby potatoes to help soak up the tasty juices.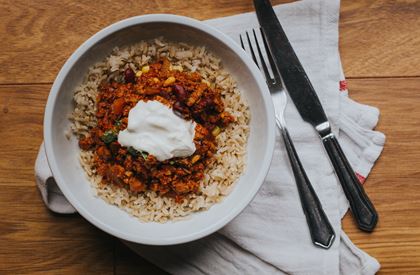 This recipe is a basic version of a culinary classic, which you can adapt and tweak to your taste.
Come and see us
Greendale Farm Shop
Sidmouth Road
Nr. Farringdon
Exeter
EX5 2JU
Opening hours
Mon-Sat 8am-8pm Sunday 9am-6pm