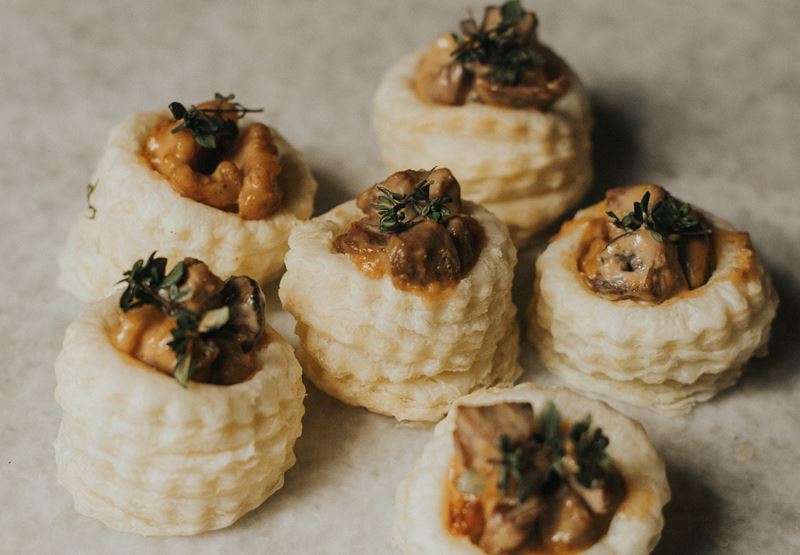 Beef, Red Wine & Mushroom Vol-Au-Vents
These deliciously savoury vol-au-vents are best served hot, so it's a good idea to bake the cases when the filling is almost ready. Makes 18.
Posted by:

John Williams

Posted on:
Ingredients
1 pack 18 Jus-Rol Vol-au-Vent Cases or make your own cases using Puff Pastry
200ml Double Cream
2 tbsp Red Wine
220g Greendale Diced Beef
200g Chestnut or Button Mushrooms, wiped clean and chopped quite small
2 large cloves Garlic, sliced finely
2 tbsp Olive Oil
A bunch of fresh Thyme; reserve enough small sprigs to ensure there is one to garnish each vol-au-vent, then strip the leaves from the remainder
Sea Salt and freshly-ground Black Pepper
Method
First, cut each diced beef piece into several smaller, evenly-sized pieces (this seems a bit fiddly, but it's just to ensure they'll fit comfortably inside a vol-au-vent case). Next, preheat the oven to 200°C (Gas Mark 6), then place a large frying pan over a medium heat and add the olive oil. When the oil is hot, lower the heat slightly and add the slices of garlic. Let them sizzle for a few seconds, then stir in the mushrooms and the thyme leaves. Cook for about five minutes, until the mushrooms start to release some juices. Now is a good time to cook the vol-au-vent cases; place them 3cm apart on a baking sheet and put them in the hot oven until golden – about 10-15 minutes.
Next, turn the heat under the frying pan back up to medium and add the beef pieces. Fry for a further three minutes, stirring, until the beef is lightly browned all over, then add the wine to the pan and let it bubble away (keep stirring) until it has reduced down. Add the cream to the pan and increase the heat to give a gentle simmer for about five minutes, stirring all the while. When the time is up, remove the pan from the heat and season to your taste with salt and pepper.
The vol-au-vent cases should be just about ready, so take them out of the oven and place them on a serving plate. Divide the hot beef filling equally between the cases, and garnish each with a thyme sprig before taking to the table.
Come and see us
Greendale Farm Shop
Sidmouth Road
Nr. Farringdon
Exeter
EX5 2JU
Opening hours
Mon-Sat 8am-10pm | Sun 8am-9pm