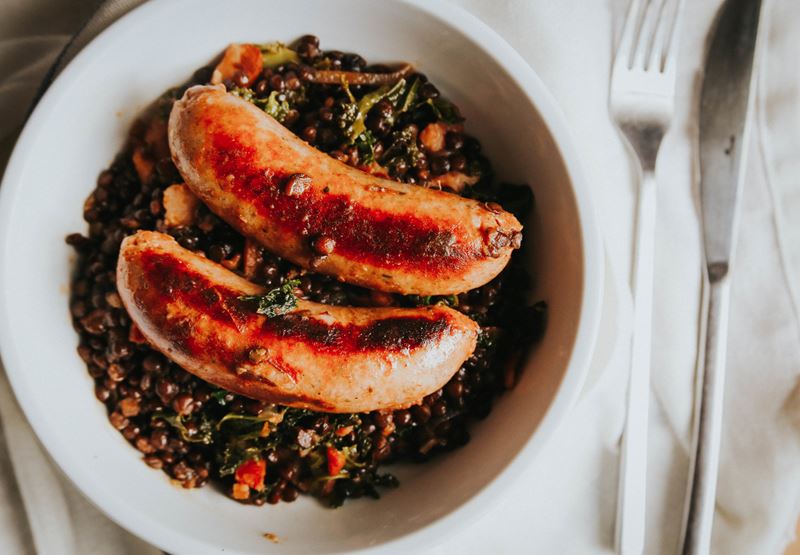 Puy Lentils with Sausages & Streaky Bacon
Variations on this simple, rustic dish appear all over Europe (and as far afield as Argentina). As well as making a welcome and delicious change from sausages and mash, it has the added bonus of being a one-pot recipe, meaning much less washing up after dinner! 
Posted by:

John Williams

Posted on:
Method
First, fill and boil your kettle, for the stock. Place a large casserole dish over a medium heat and add a tablespoon of olive oil, allowing the oil to get hot before adding the sausages. Cook the sausages, turning them so that they brown all over (this will take 15-20 minutes), then lift them out with a fish slice on to a plate and set aside. Next, put the bacon pieces into the pan and fry until crisp - add a little more oil if the bacon starts to look too dry.
When the bacon is done, lower the heat and add the prepared onion and a pinch of sea salt, then cook for 8-10 minutes, or until the onion has softened. Tip in the sliced garlic and cook for a further minute, then add the tomato purée and stir it through. Now add the lentils, hot stock and tinned tomatoes and stir everything well, then put the sausages back into the casserole dish, plus any juices from their plate. Raise the heat, then let the dish simmer for 45 minutes, stirring occasionally, until the lentils are tender but not mushy. Finally, add the shredded kale leaves to the dish, together with a splash of hot water from your kettle (about 100ml), then simmer for a further 5 minutes. Check the seasoning, then spoon into four bowls and serve straight away.
Be inspired…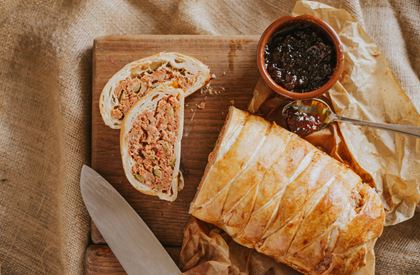 Delicious hot or cold, we think this Plait would be great as part of a picnic – slice and wrap before you go, or take a board and knife and serve it up in situ.
Come and see us
Greendale Farm Shop
Sidmouth Road
Nr. Farringdon
Exeter
EX5 2JU
Opening hours
Mon-Sun 7am-11pm