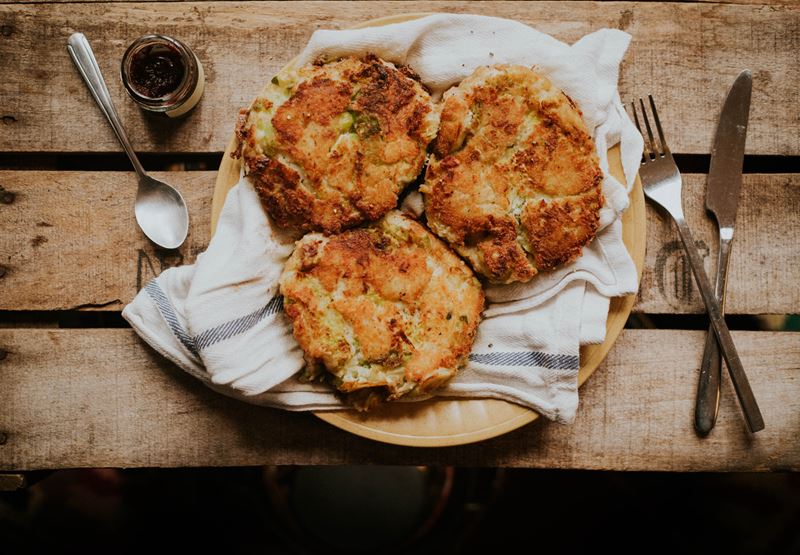 Boxing Day Bubble And Squeak
This is a great way to use up leftover turkey, roast potatoes and cooked sprouts or cabbage - it's also quick and simple, because you deserve a well-earned break after cooking Christmas dinner! Serves 4.
Posted by:

John Williams

Posted on:
Ingredients
200g leftover cooked Turkey meat, shredded
250g leftover roast Potatoes, mashed (you can make up the weight by adding in leftover roast parsnips or carrots if you like, or just make up some fresh mashed potato if the leftovers have already been snaffled!)
100g leftover cooked Brussels Sprouts or Cabbage, shredded
1 Egg, beaten
10g Butter
Rapeseed Oil
Salt and Black Pepper, to taste
Method
In a large bowl, mix the sprouts or cabbage with the turkey and the mashed potatoes (and other veg, if using). Add the egg, season with salt and pepper and stir well to combine. Next, dust your work surface and hands with a little plain flour, then shape the mix into small patties, about 8-10 cm across and about 2cm deep. Sit them on the floured work surface while you wash your hands and put some kitchen roll on a large plate, ready to drain the cooked patties.
Put a large frying pan over a medium heat and add a good drizzle of oil, followed by the butter. As soon as the butter has melted, put the patties into the pan and fry for a few minutes, then turn them and cook for another couple of minutes on the other side, until they're cooked through and golden all over. Lift the cooked patties on to the kitchen roll to drain, then repeat the process until you have cooked them all. Serve with salad and the sauce of your choice (Ketchup and Cranberry are both good) – you could also try topping them with a poached egg or two.
Come and see us
Greendale Farm Shop
Sidmouth Road
Nr. Farringdon
Exeter
EX5 2JU
Opening hours
Mon-Sat 8am-10pm | Sun 8am-9pm