Plaice, gutted, headed & trimmed
Product description
Much loved for its sweet flavour and tender flesh, Plaice is a versatile fish that will cook quickly for a special meal in moments.
£3.50 Was £6.99 - 50% savings
Be inspired…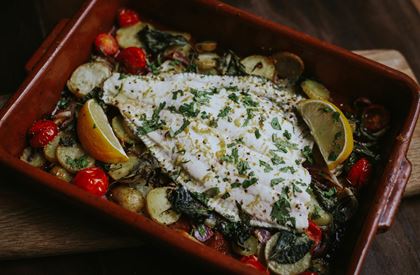 This is a delicious and healthy way to enjoy our locally-caught Plaice, and it's a versatile recipe, too; it will work just as well with any flat white fish, and the quantities can be scaled up or down pretty easily. Best of all, it's made with just one baking tray and one pan, so washing-up is kept to a minimum!
Come and see us
Greendale Farm Shop
Sidmouth Road
Nr. Farringdon
Exeter
EX5 2JU
Opening hours
Mon-Sun 7am-11pm