Quickes Extra Mature Cheddar (Whole Cheese)
Pre-order for Christmas
Out of stock
Product description
An extra few months' maturing does wonderful things to this rich, rounded cheddar, producing a complex balance of flavours. Matured to perfection for 18-21 months, every truckle is handcrafted and cloth-bound by a team of nine expert cheese-makers. With layer after layer of mouth-watering flavours, this Cheddar is a classic companion to Cabernet Sauvignon. It's great for cooking with, too, bringing distinctive Devonshire richness to soufflé and pesto.
*PLEASE NOTE* This seasonal item is only available to pre-order for collection or delivery between 01/12/2022 and 24/12/2022 (exclusions apply). In the basket please choose the Pre-Order for Christmas options.
Be inspired…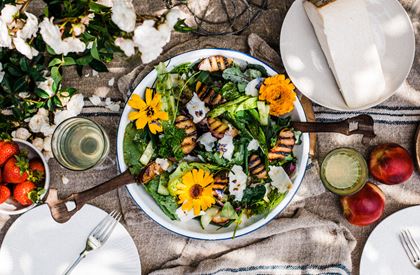 This salad is the perfect combination of warm and sweet nectarine, crunchy bitter leaves, fragrant flowers and creamy lemony Quicke's Goat's Milk Clothbound Cheese, drizzled with a Classic House Dressing. Pair with a loaf of bread and some white wine to wash it down with.
Come and see us
Greendale Farm Shop
Sidmouth Road
Nr. Farringdon
Exeter
EX5 2JU
Opening hours
Mon-Sat 8am-10pm | Sun 9am-10pm