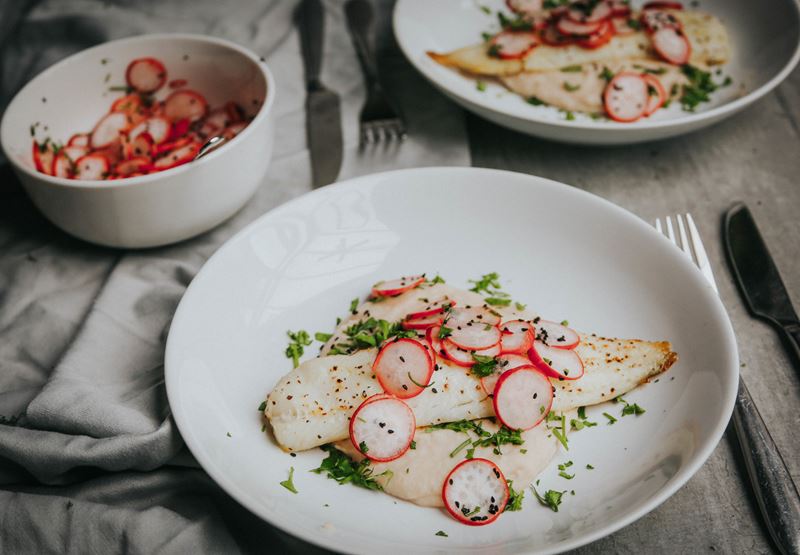 Whiting with Canellini Puree & Pickled Radishes
Known for its firm, lean flesh and delicate taste, whiting is a more sustainable – and more economical – alternative to cod. Here, it's paired with a warm garlicky bean purée and some bright pickled radishes for extra crunch. Serves 4.
Posted by:

John Williams

Posted on:
Method
First, fill and boil your kettle, to make your stock, then preheat your oven to 200°C (Gas Mark 6). While the oven comes up to temperature, make the pickled radishes; slice each radish as thinly as you possibly can (a mandolin is ideal, or the slicer on a hand-held grater), then put all the slices into a bowl and add a generous pinch of sea salt. Add the vinegar and honey and gently mix it all together, turning with your hands, then put the dish to one side.
Next, lightly oil a baking tray large enough to hold the four whiting fillets, then put the fish on the tray and drizzle each piece with a little olive oil and the juice from the first lemon, together with a pinch of salt and some black pepper. Put the tray into the hot oven and bake for about 15 minutes, or until the fish is cooked through and flakes apart easily.
While the fish is cooking, place a large saucepan over a low heat and add half a tablespoon of olive oil. Crush in the garlic cloves and cook gently for about 30 seconds, stirring, then add the drained beans and the hot stock and bring up to a simmer. Let it bubble gently for about five minutes, then stir in the lemon zest and take the pan off the heat, leaving it to cool slightly. As soon as the bean mixture is cool enough to handle safely, tip it into a food processor and pulse to a smooth consistency. Stir half of the parsley into the bean mash, then divide the mash between four plates and – when the fish is cooked – place a whiting fillet on top of the mash on each plate. Stir the remaining parsley into the pickled radishes, then tip them into a serving bowl and scatter the nigella seeds over the top. Finally, place a couple of lemon slices on each plate, then serve with the radishes in their bowl.
Be inspired…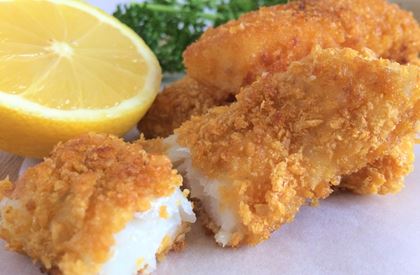 Instead of opening a packet, why not have a go at making these delicious fish fingers? They're healthy, tasty and quick to make.
Come and see us
Greendale Farm Shop
Sidmouth Road
Nr. Farringdon
Exeter
EX5 2JU
Opening hours
Mon-Sat 8am-10pm | Sun 8am-9pm